Sen. Roger Wicker (R-Miss.) approved of the overall future Navy plan Secretary of Defense Mark Esper outlined earlier this month, with some reservations on unmanned ship speed.
"As a longtime advocate for a bigger Navy, I was delighted with the goals he outlined," the member of the Senate Armed Services Seapower Subcommittee and chairman of the Senate Commerce, Science, & Transportation Committee said in a statement.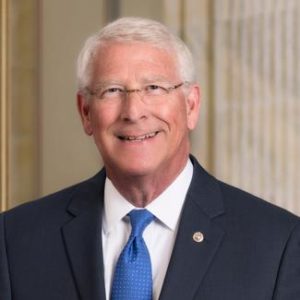 Earlier in October, Esper said the new Navy future fleet plan calls for reaching 500 combined manned and unmanned ships by 2045 and 355 manned ships by 2035, partially funded by increasing the Navy's shipbuilding budget (Defense Daily, Oct. 6).
Previously, after Esper's speech, he received a mixed reception from members of both parties in the House and Senate Armed Services Committees, particularly skeptical of the emphasis on unmanned vessels and possibly reducing the number of aircraft carriers (Defense Daily, Oct. 7).
Wicker welcomed Esper working on department-wide savings efforts to put toward the ships.
"He is asking Congress for as much as an 18 percent boost to the Navy's shipbuilding budget. This would bring spending on ships to a level not seen since President Ronald Reagan. I wholeheartedly welcome this funding goal, but the details of how the money is spent will be critical."
It is unclear where Wicker got the 18 percent number. In his speech outlining the plan, Esper said reform efforts to redirect funds within the Navy as well as shifting funds from reforms across the DoD enterprise would increase the shipbuilding account to 13 percent within the Navy's topline.
However, Wicker remained reluctant to move too quickly on production of unmanned vessels, similar to other members of the defense committees.
"Our future fleet needs to rely on proven technology. New unmanned ships show great promise, but they have a long way to go before they are battle-ready. A shift to these new technologies too quickly could result in production delays and higher costs. They should be integrated carefully and gradually and should not displace the tried and true core of our naval fleet," Wicker said.
The defense committees expressed their concern on moving too quickly with unmanned vessels in the FY '21 budget cycle. Both the House and Senate FY '21 defense authorization bills would force the Navy to certify key technologies and systems independently before production can move forward and limit integrating offensive weapons until further certifications (Defense Daily, June 23).
Wicker also said a larger fleet will require more maintenance capacities. He wants the Navy to consider options to reduce maintenance backlogs, like bundling ship maintenance contracts and working with industry in establishing clear expectations for work.
"The Navy already faces significant maintenance delays, which pose a danger to sailors and result in fewer ships being deployed. Because of delays, the Navy requires a minimum of 11 aircraft carriers to keep just three carriers active at all times."
Wicker argued DoD and Congress should provide shipbuilders with earlier notice on contracts, guarantee production rates for major ship classes, and make more use of block buy contracts to help stabilize the industrial base if they want to increase the fleet.
"These changes would allow shipyards to save money, reduce the time it takes to build ships, and keep more workers on the payroll."