Several members of Congress commented on Secretary of Defense Mark Esper's new Navy fleet plan somewhat positively, but plan significant adjustments and expressed some concerns.
Rep. Joe Courtney (D-Conn.), chairman of the House Armed Services Committee (HASC) Seapower Subcommittee, welcomed the plan's boost to submarine forces but was not impressed with the timing or the administration's FY 2021 budget request along these lines.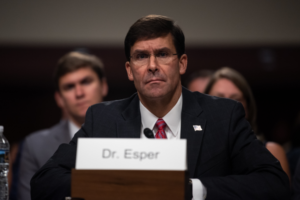 "Today, Secretary Esper previewed a long-overdue force structure plan that begs for more detail and explanation. Notably, the Secretary shared the predictable outcome of these months of review and study—that we need a bigger and more capable submarine force," Courtney said in a statement Oct. 6.
Esper on Tuesday outlined the delayed future Navy plan called Battle Force 2045. It calls for over 500 manned and unmanned vessels by 2045, including 355 traditional battle force ships before 2035, increasing the submarine force to the 70 to 80 range, building three Virginia-class submarines per year, redirecting carriers into eight to 11 super carriers and up to six light carriers, adding 140 to 240 unmanned and optionally manned vessels, and more changes (Defense Daily, Oct. 6).
Courtney said the administration's FY '21 budget request proposed a 19 percent cut to the submarine budget and took out a previously planned Virginia-class attack submarine procurement.
"After four long years of stonewalling Congress's commitment to enlarging our nation's submarine fleet…the Trump administration today acknowledged what has long been blindingly obvious: our undersea fleet is dangerously small."
Courtney added that "if Secretary Esper is serious about boosting production, he could direct his department to support the House-passed authorization and funding levels for a second Virginia-class submarine in 2021 that reverses the Administration's anemic shipbuilding budget in the House-Senate conference process happening right now."
Courtney's counterpart, HASC Seapower Ranking Member Rob Wittman (R-Va.), said he was encouraged by the Battle Force 2045 plan.
In a statement on Wednesday, Wittman said he was particularly "pleased to see the Department calling for a larger and more capable submarine force, with Secretary Esper going as far to say we must begin working towards a three per year build rate as soon as possible."
Wittman said he saw his own assessments echoed in the plan, that strategic sealift and integrating the Marine Corps' force design into the future Navy was necessary.
However, Wittman was skeptical about what it changes on carriers and focusing on unmanned vessels.
"I have concerns about the reorganization of our carrier force structure and the emphasis on unmanned and optionally manned platforms. I look forward to exploring these concerns further through discussions with Secretary Esper and Secretary [Kenneth] Braithwaite."
Rep. Mac Thornberry (R-Texas), the retiring ranking member of the full HASC, was more circumspect in a statement on Oct. 6. He said he agrees the Navy needs to be larger to compete with Russia and China.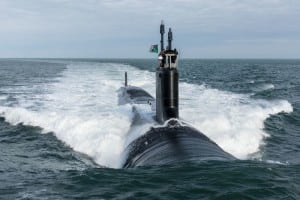 "It has been clear for some time that if the United States is to maintain our competitive edge over Russia and China, we will need a larger Navy. The plan announced today not only answers the question of 'how many ships,' but also provides details for how to get there."
"While I am sure my colleagues will make adjustments in the years ahead, this is a serious proposal that deserves our attention and action," Thornberry added.
Sen. Jack Reed (D-R.I.), ranking member of the Senate Armed Services Committee, sounded a more skeptical note.
"The Navy needs to think critically about how our forces should look to face near peer competitors in the future.  There are some interesting ideas here, but not a lot of details.  The committee would like to see the details as it works through its analysis," Reed said in a statement on Wednesday.
Sen Tim Kaine (D-Va.), member of the Senate Armed Services Committee, focused on how the administration is supporting more shipbuilding.
"I'm glad the Administration now supports a more robust shipbuilding plan. Just eight months ago, the President unveiled his FY 2021 budget request that cut a Virginia-class submarine and then notified Congress they would cut another $911 million for amphibious ships from shipbuilding accounts to fund the border wall," Kaine said in a statement on Wednesday.
"While I am pleased by Secretary Esper's vision for tomorrow's Navy, his biggest impediment is the Administration's unwillingness to fund that priority," Kaine added.
None of the members of Congress commented on Esper's request for additional authorities to both let the Navy divest from legacy systems and lower priority activities and redirect them to higher priorities as well as statutory authority to direct unused end of year Navy funds into the shipbuilding account rather than letting it expire.
Relatedly, in his speech outlining the new plan on Tuesday, Esper seemed to blame the late 30-year shipbuilding plan and new force structure plan on the COVID-19 pandemic and the Office of Management and Budget (OMB).
"In February, I made a commitment to Congress that the department would submit this year the future naval force study and the 30-year shipbuilding plan, which is informed by the findings of this study. Though delayed by COVID, we are in the process of fulfilling that promise through proper coordination, beginning with our partners in the Office of Management and Budget."
"In the near future, we aim to release the 30-year plan and provide the study to Congress," he added.
The 30-year shipbuilding plan was due with the FY 2021 budget request and the Navy had previously promised to deliver its Integrated Naval Force Structure Assessment (INFSA) as well, updating an older 2016 vision document.
In February, Esper told the HASC he wanted to first review the 30-year plan before delivering it to Congress (Defense Daily, Feb. 26).
"Once I have had a chance to review it and digest it … at the appropriate point in time, I will share with you what I believe our future force structure should look like," Esper told the panel.
However, former Acting Navy Secretary Thomas Modly told the committee Esper wanted to see how the INFSA and 30-year plan would impact each other before submitting them to Congress. Modly said he was hopeful the plan would be delivered "in a couple of months" (Defense Daily, Feb. 28).
"As you think about this '21 budget, you'll have plenty of information and enough time to be able to do that," Modly added.
In March, Modly confirmed Norquist was leading the review effort that has resulted in Battle Force 2045 (Defense Daily, March 26).
In June, the HASC Seapower subcommittee expressed its displeasure in the delays by adding provisions in the FY '21 defense authorization bill that would fence off 75 percent of Esper's office's operation and maintenance funds until the 30-year plan is delivered and restrict any ship retirements until the INFSA is delivered (Defense Daily, June 23).