The vice chair of the House Armed Services Committee (HASC) said she feels like Congress does not understand all the inputs for the Navy's future fleet plans and is skeptical of retiring the service's cruisers while trying to expand the fleet size.
During an event at the Hudson Institute on Monday, Rep. Elaine Luria (D-Va.) said she is looking forward to a briefing from the Navy on its concepts behind the Battle Force 2045 plan.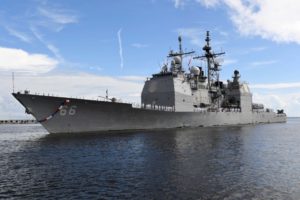 "What I feel is lacking is really an understanding of, with Battle Force 2045, how'd they get the numbers that are in the plan," Luria said.
She recently sent a letter to the Acting Secretary of the Navy and Chief of Naval Operations asking for additional information on what were the inputs to Battle Force 2045, including assumptions the Navy makes about capacity of the industrial base, deployment cycles of ships, capability and capacity of ships.
"In Congress, we're only being given a number of ships. We should build this many per year. And obviously it includes some questionable things, it reduces the number of large surface combatants, but how do we make up for that loss in number of [Vertical Launching System or VLS] cells, for example?"
Former Secretary of Defense Mark Esper unveiled Battle Force 2045 last October. It calls for increasing the fleet not just to the congressionally-mandated 355 battle-force ships, but reaching over 500 ships when including unmanned vessels by 2045. It also plans to reach 355 traditional battle force ships by 2035 (Defense Daily, Oct. 6, 2020).
Subsequently, the Navy's 30-year shipbuilding plan mapped out plans to reach 355 ships within a decade but includes plans to retire half of the Ticonderoga-class cruiser fleet by fiscal year 2025 (Defense Daily, Dec. 10).
Luria admitted it seems like part of the unmanned surface vessel fleet is intended to make up for these kinds of capabilities and systems.
Luria noted her colleague, Rep. Rob Wittman (R-Va.), ranking member of the HASC Seapower and Projection Forces subcommittee, agrees and "we've spent a lot of time and effort thinking about shipbuilding, it's a huge impact to the Hampton Roads areas because we're building all the carriers, half the submarines and I think these questions need to be answered really."
Both Luria's and Wittman's congressional districts include the Hampton Roads-Norfolk region that includes the Huntington Ingalls Industries' [HII] Newport News Shipbuilding shipyard that builds those vessels as well as naval facilities nearby.
"A lot more visibility needs to be put on the role the Navy plays in any conflict in the Pacific and what investments we're making today and the choices we make about those kinds of ships are really going to have an impact for a generation and I think we need to do this right," she continued.
Luria underscored her concerns about the Navy's plans, including with unmanned systems, given issues in several ships classes in recent decades.
"There's quite a few recent shipbuilding programs that haven't gone as planned or on budget. You know we can look at the [Littoral Combat Ship], although it is deployable and it is being used for missions around the world…it is still not fully capable for some of the missions."
Luria cited delays or changed procurement plans for the USS Gerald R. Ford (CVN-78) and Zumwalt­-class DDG-1000 destroyers.
"As we go across some of our recent shipbuilding programs, they haven't really gone as planned, on schedule or budget-wise so when we look to the future, new class of frigates and kind of how we're going to get to where we need to get to with the future of the Navy – those are all things that are on my mind."
Luria underscored she thinks it is important to maintain the ships the Navy currently has and operate as efficiently as possible without decommissioning ships too quickly while trying to build a larger fleet, particularly looking at the Ticonderoga-class cruisers the Navy plans to retire.
"We also need to maintain the ships that we have and operate as efficiently as possible…and we need to quit getting rid of the ships we have that still have operational life left in them. [Battle Force 2045] aggressively decommissions the cruisers, some of which we've spent a lot of money upgrading in recent years and there's always a question of – well, it would just cost too much to upgrade them in a way that we could get 10 or 15 more years out of the ship."
Luria said the Navy has to think about whether the U.S. needs a lot of ships now and if so "we can only build so many so fast, so is it really smart to get rid of the ones that we have?"
She wants to see a hull by hull analysis of issues with continuing the life of each cruiser that includes what the Navy has already upgraded them to do and analyze if those investments are worth maintaining to keep fleet presence up for additional years.
"The cruiser is going to eventually be replaced by a Flight III DDG, but that's going to take a while to bring those online and we need that capacity and capability of the air defense commander, the VLS cells and the presence…we just need to see on paper, is there life left in the cruiser and where would a smart investment be made?"
"I don't see any other way that we can actually grow the fleet if we are not [maintaining current ships]. If we're decommissioning ships at a faster rate than we're building them, the fleet size is going to shrink, were going to reduce our capacity and that is really the opposite of what we're trying to do" to increase presence and credible threats in the Pacific.
Luria said the concern is not only the ship count, but properly maintaining facilities, "but at same time we can't just decommissions ships faster than we can build them and expect the Navy to grow. The math doesn't work."