The Army has started integrating its autonomy software on its prototype light and medium Robotic Combat Vehicles (RCV), with both platforms set to undergo testing in the coming months ahead of a major operational experiment in 2022.
Alfred Grein, acting director of the Army's Ground Vehicle Systems Center, said the service has now received all four RCV-Light (RCV-L) prototypes, built by Qinetiq and Pratt Miller
, and will have all four RCV-Medium (RCV-M), developed by a Textron Systems [TXT] team, in May.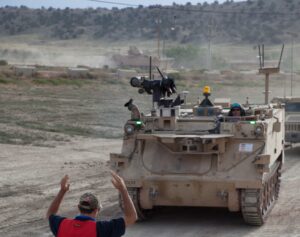 "The robotic systems are a reality. They are out there and training and experimenting with our soldiers as we speak today," Grein said during a discussion at the virtual AUSA Global Force Next conference.
For RCV-L, after integrating the government-developed robotic technology kernel, or RTK, autonomy software, the Army shipped the prototypes to Texas A&M University's RELLIS Campus for functional testing.
"The full team spent the month of February at Texas A&M where great progress was made through the functional checkout plan and the RCV-L vehicles were paired with the Mission-Enabling Technology Demonstrator, or MET-D, to begin the full system manned-unmanned teaming, or MUM-T, process," Grein said.
In February, the Army received a partially completed RCV-M to begin work on the autonomy software, with plans to have the full system by the end of April before receiving the subsequent three medium robots.
"The early delivery vehicle is being used to integrate the government-controlled RTK software prior to the delivery of the fully functional systems. And that's to give us a little heads up in terms of any integration challenges we may run into on this system. But so far things are progressing very well," Grein said.
From April to September, the RCV-Ls and RCV-Ms will undergo "shakedown" testing at Camp Grayling in Michigan where the Army will work on pairing with robotic vehicles to ensure the prototypes can operate in the larger company-level demonstration in 2022.
"Upon successful shakedown testing paired with our MET-D vehicle and the MUM-T network, it'll be tested for its ability to control a company set of RCVs consisting of 18 systems. That would be four RCV-Ls, four RCV-Ms, four RCV-Heavys, which are 113 surrogate vehicles and six MET-D control vehicles. And all of that will be operated simultaneously and we're going to test that out here at Camp Grayling in Michigan before we go to Fort Hood, Texas," Grein said.
Following the Camp Grayling testing, the Army is planning to ship the RCV prototypes to Army Test and Evaluation Command for safety testing through May 2022, according to Grein.
The company-level demonstration, or RCV Phase 2 experiment, will take place at Fort Hood from June to August 2022 and also involve M113s as RCH-Heavy surrogates, and ultimately be used to inform Milestone B decisions for the RCV-L and RCV-M prototypes.