The Army's lead official for tactical network modernization said the service is working extensively with the Air Force to ensure its future network capabilities and sensor-to-shooter capacity works in sync with the Joint All-Domain Command and Control (JADC2) effort.
Maj. Gen. Pete Gallagher, director of the Network Cross Functional Team, said the Army and Air Force held extensive talks on network collaboration following the first Project Convergence (PC) event last fall with additional discussions planned for April to discuss joint initiatives that can be demonstrated at this year's PC exercise.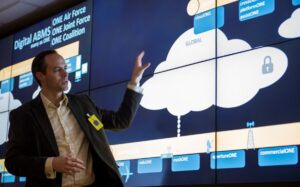 "Right on the heels of Project Convergence, the two service chiefs and our staffs met in the Pentagon to talk through some options and they signed a memorandum of understanding laying out the framework for how the two services around going to work together for delivering Joint All-Domain Command and Control," Gallagher said during a discussion at the virtual AUSA Global Force Next conference.
Gallagher said recent work with the Air Force on a demo for their Advanced Battle Management System and participation in two JADC2 experiments specifically informed future decisions for Army network modernization, which is currently working through two-year capability drops.
"What we did as an Army is we took a look at our modernization strategy, we challenged our assumptions on our approach and we unpacked everything we were doing in order to align with what our Air Force teammates and our joint teammates were doing as part of Joint All-Domain Command and Control," Gallagher said. "It was about establishing the Army's portion of a joint tactical grid, which is all things transport, our ability to ensure that we've got transport in a contested environment against a peer adversary."
The Army is working through fielding of its first capability drop, CAPSET 21, and beginning a preliminary design review soon for CAPSET 23, and Gallagher said there's a focus on working in terrestrial line-of-sight systems, beyond-line-of-sight systems through an aerial tier and multi-orbit, multi-pass satellite connectivity "that gives us assured network transport when we're contested in space, cyber and spectrum" as its builds on the Air Force partnership.
Brig. Gen. Jeffrey Valenzia, the Air Force's director for Joint Force Integration, said the work with the Army has led to discussions on better integrating sensors, creating all-domain data management techniques, new ways to enable secure processing, improving connectivity and bolstering sensor-to-shooter tools to help bring effects together.
"We're excited about our partnership with the Army and we've already seen some phenomenal successes as we have aligned our experimentation, whether that be through the Project Convergence series or through the integration of labs or even just the sharing of common objectives," Valenzia said.