The Army is partnering with the Air Force on the development of the Tactical High-Power Microwave Operational Responder (THOR) prototype directed energy weapon designed to take down groups of enemy drones.
The Air Force, which is leading THOR development, said on Feb. 19 the Army's Rapid Capabilities and Critical Technologies Office (RCCTO) is investing in the prototype as a potential high-powered microwave solution for its Indirect Fire Protection Capability program.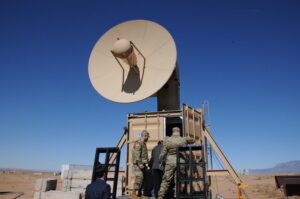 "The Army's directed energy capabilities will need to provide a layered defense with multiple ways to defeat incoming threats," Lt. Gen. Neil Thurgood, the head of Army RCCTO, said in a statement. "High energy lasers kill one target at a time, and high powered microwaves can kill groups or swarms, which is why we are pursuing a combination of both technologies for our Indirect Fire Protection Capability rapid prototyping effort. Our partnership with the Air Force Research Laboratory gave the Army a running start on the high power microwave mission, and we look forward to continuing to advance these capabilities to protect our warfighters."
THOR is being developed by a team at Air Force Research Laboratory's Directed Energy Directorate at Kirtland Air Force Base in New Mexico, which includes BAE Systems and Verus Research as industry partners.
Thurgood met with THOR developers on Feb. 11 at Kirtland AFB, according to the Air Force, where the prototype is currently undergoing a series of risk reduction and system characterization events as well as soldier evaluations.
In December, the Air Force's chief scientist official said the service is conducting operational testing of THOR in Africa (Defense Daily, Dec. 17).
Amber Anderson, the THOR program manager, said the idea with THOR is to have an counter-drone system that uses high-power microwaves to target several enemy systems at once where a laser can only target one at a time.
"The system output is powerful radio wave bursts, which offer a greater engagement range than bullets or nets, and its effects are silent and instantaneous," Anderson said in a statement.
The Army is currently working to deliver a prototype 300-kilowatt high energy laser capability as part of IFPC in FY '24.