The Navy awarded Huntington Ingalls Industries' Newport News Shipbuilding [HII] a $3 billion contract on Feb. 19 for the refueling and complex overhaul (RCOH) of the USS John C. Stennis (CVN-74).
The RCOH is a mid-life event to refuel, overhaul and modernize the Nimitz-class carriers to support the second half of their 50-year service lives. Newport News Shipbuilding is the original contractor for all of the aircraft carrier in the class and thus the contract was not competitively procured. HII is the only source for producing and maintaining the aircraft carriers.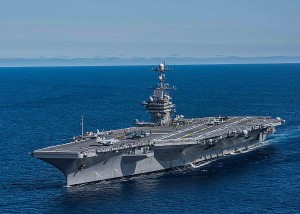 HII said this RCOH represents 35 percent of all maintenance and modernization in the carrier's service life. The CVN-74 refueling and overhaul work covers refueling ship nuclear reactors, modernization work on over 2,300 compartments as well as hundreds of tanks and systems.
The company said it will also provide "major upgrades" to the propulsion plant, the flight deck, catapults, combat systems and the island.
Work will occur in Newport News (94 percent) and Norfolk, Va. (six percent), and is expect to be finished by August 2025.
Huntington Ingalls Industries spokesman Duane Bourne told Defense Daily an RCOH "is an extremely complex engineering and construction project which involves more than 680 suppliers from 40 states providing material and services critical to the overhaul process."
Bourne confirmed the company does not anticipate any further follow-on contracts related to this RCOH.
In 2019, the Navy awarded HII a $291 million modification to add year two preparation work for the RCOH of the Stennis, covering some advance planning work and at the time RCOH was expected to last for four years and end by late 2024 (Defense Daily, Aug. 2, 2019).
Fiscal year 2021 Navy shipbuilding funds of $1 billion were obligated at time of award and will not expire at the end of this fiscal year.
"We are pleased to be awarded the contract to execute this extensive construction and engineering project. Our teams have spent three years preparing and planning for each step of the process along the way, and we look forward to continuing our work with our suppliers and Navy partners in anticipation of the ship's arrival at Newport News," Todd West, Newport News' vice president for in-service aircraft carrier programs., said in a statement.
HII Newport News Shipbuilding delivered the Stennis to the Navy in 1995 and it is the seventh Nimitz-class carrier to undergo an RCOH.
The company said more than 4,000 employees will support this overhaul effort.