The Navy awarded BAE Systems a contract worth up to $169 million to repair and correct work on
San Antonio-class amphibious transport dock ships the future USS Fort Lauderdale (LPD-28), future USS Richard M. McCool Jr. (LPD-29) and LPD-30.
The Naval Sea Systems Command contract is initially valued at $9 million for fitting out availabilities (FOAs) and post-shakedown availabilities (PSAs) of the three ships. It includes options that, if exercised, would raise the total contract value to $169 million.
The award notice said this work "will include correction of government-responsible deficiencies, new work identified between delivery and the time of FOA/PSA, and incorporation of approved engineering changes that were not incorporated during the new construction periods, which are not otherwise the building yard's responsibility under the ship construction contract."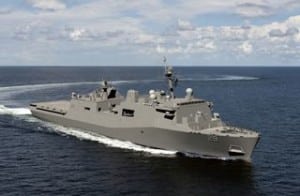 The contract also includes scope to allow for emergent work to correct government-responsible deficiencies identified after ship delivery and/or as a result of preparations for the final acceptance trials conducted by the Navy Board of Inspection and Survey (INSURV).
Work will occur at the company's sihpyard in Norfolk, Va., and is expected to be finished by October 2022. If all options are exercised, work will last through December 2026.
DoD said the contract was competitively procured but only one offer was received.
Huntington Ingalls Industries [HII] will build all three ships at its Pascagoula, Miss., shipyard.
HII won a $1.46 billion contract for the detail design and construction of LPD-28 in 2016 (Defense Daily, Dec. 19, 2016); in 2018 HII won a $1.4 billion modification to build the LPD-29 (Defense Daily, Feb. 20, 2018) and in 2019 HII won a $1.47 billion modification for LPD-30.
LPD-29 was originally added to the production line to act as a bridge between the original San Antonio-class LPDs and the new Flight II San Antonio-class, which won a competition as the LX(R) ship to replace the 12 aging Whidbey Island/Harpers Ferry-class (LCD-41/49) amphibious ships. LPD-30 will be the first in this new Flight II variant.
The San Antonio-class is used to embark and land Marines, their equipment and supplies ashore using various landing craft and aircraft.
The Flight II is set to feature better troop armory and weapon stowage and support newer capabilities like the Textron [TXT] Ship-To-Shore Connector, Sikorsky [LMT] the CH-53K helicopter, and the Bell [TXT]-Boeing [BA] MV-22 Osprey.