The Pentagon said Monday it has established a new consortium to bolster research efforts with universities for hypersonic capabilities, with the department awarding Texas A&M $20 million a year to lead the new group for the next five years.
DoD officials told reporters the new University Consortium for Applied Hypersonics (UCAH) will release an initial group of 26 hypersonic-related project solicitations in November, with plans to award $20 million in funding for those projects.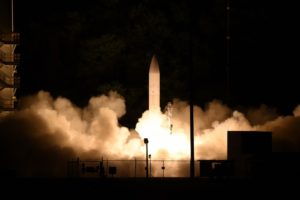 "This consortium will bring together, under one umbrella, universities from across the country," Gillian Bussey, director of DoD's Joint Hypersonics Transition Office, told reporters. "The idea is really to leverage this broadly-scoped consortium to break down functional stovepipes, so we can move good ideas from research to operationally-useful capabilities."
Texas A&M Engineering Experiment Station (TEES) will manage the new group, which looks to find research initiatives from across academia and industry that could be transitioned into the Pentagon's ongoing hypersonic weapons development.
"We often have difficulty transitioning department-funded basic research from universities through industry to operational applications," Mark Lewis, acting deputy under secretary of defense for research and engineering, said in a statement. "It is a particular challenge in hypersonics, where multiple disciplines must intersect precisely to move forward. The Consortium will help us link a deeper understanding of our operational requirements to the exceptional research being conducted across the nation."
The Pentagon is currently working across the services on hypersonic weapon development, considered a top modernization priority, with the Army and Navy in March jointly conducting a successful launch of its hypersonic weapon glide body (Defense Daily, March 20).
Several more flight tests are scheduled for 2021 as the Pentagon pushes to field an initial hypersonic weapon capability in fiscal year 2023.
"Tell us how we can help protect this nation and we'll be right there. We have experience managing consortiums and our hypersonic research capabilities are second to none," John Sharp, chancellor of the Texas A&M System, said in a statement.
Texas A&M has previously approved plans to spend $130 million to build a new complex on its RELLIS campus that will serve as Army Futures Command's central testing hub for next-generation technologies (Defense Daily, Aug. 8 2019).
The new Bush Combat Development Complex is expected to be completed by mid-2021 and will house "the biggest enclosed hypersonic testing range in the nation," according to the university.
Universities joining Texas A&M's work to guide the UCAH include the Massachusetts Institute of Technology, the University of Minnesota, the University of Illinois at Urbana-Champaign, the University of Arizona, the University of Tennessee Space Institute, Morgan State University, the California Institute of Technology, Purdue, the University of California-Los Angeles, and the Georgia Institute of Technology.