Texas A&M University's board of regents on Thursday approved plans to spend $130 million to build a new complex on its RELLIS campus that will serve as Army Futures Command's central testing hub for next-generation technologies.
University officials said the move will turn the 2,000-acre RELLIS campus in Bryan, Texas, into a "living laboratory" by June 2021, and will also serve as the "the hypersonics research capital of the country."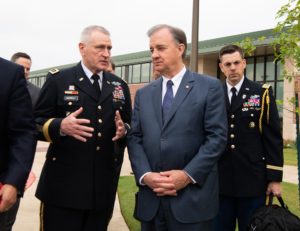 "The fact that the Army Futures Command chose RELLIS campus for its national testing site underscores how a great research university contributes to our state and nation. Today will truly be a landmark in the history of A&M and certainly the RELLIS campus," Elaine Mendoza, the board chairman, said during Thursday's meeting.
The Austin-based Futures Command is tasked with driving the Army's push toward next-generation technology designed for the future fight with peer competitors, and includes programs such as the Optionally Manned Fighting Vehicle and Future Vertical Lift efforts.
Gen. Mike Murray, the head of Futures Command, has previously discussed plans to work with Texas A&M to assist with hypersonics and directed energy research, as well as building a future facility to be used as a "soldier development center," now that his command has reached full operational capability (Defense Daily, July 18).
Katherine Banks, Texas A&M University System's vice chancellor of engineering and national laboratories, said the RELLIS Campus project includes $50 million for the construction of an Innovation Proving Ground (IPG) and $80 million toward building the Research Innovation Center, also called Innovative Technologies Development Complex.
"The Innovation Proving Ground will provide a challenging outdoor test site for autonomous aerial, ground and subterranean vehicles. The systems involved are highly complex with networks and sensors using innovative operating environments," Banks said. "[The RIC] will be a state-of-the-art innovation hub where researchers, students, industry and government and the military can collaborate on creative, emerging technologies that will modernize the Army."
Banks said the project also includes the construction of several facilities to push hypersonic weapon and directed energy research, including the Ballistic Aero-Optic Materials (BAM) facility, a Mach-6 quiet tunnel and a laser diagnostics laboratory.
BAM will consist of an above ground tunnel that is 1 km. long and 2 meters wide and built with integrated sensors, with opportunities for industry to use the facility for testing.
"It will be available to other military branches and defense contractors. BAM will be one of a kind," Banks said.