The Army's new modernization-focused Futures Command will announce on July 31 it has reached full operational capability (FOC), the command's leader said Thursday.
Gen. Mike Murray, head of Army Futures Command (AFC), told reporters the decision arrives after meeting a series of criteria for manning and facilities and the transition of several subordinate commands, as AFC looks to move forward on the Army's six modernization priorities to develop capabilities built for a potential future fight with peer competitors.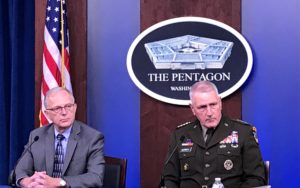 "As you would suspect, the Army didn't give me a year off to sort this out before they started asking things from me. So I think we have actually been executing our mission that we've been given for the last six to eight months, if not longer. That's why I'm very, very comfortable saying July 31 we'll be fully operational," Murray said.
Futures Command, which was stood up just over a year ago, is headquartered in Austin, Texas and is responsible for eight Cross-Functional Teams each managing one of the Army's modernization priorities, ranging from the next-generation combat vehicle to future vertical lift platforms.
Murray said AFC has grown from an initial group of 12 people to over 20,000 soldiers and civilians located across 25 states and 15 countries. He added the CFTs are manned at 90 percent, while the headquarters are at 100 percent military staffing levels and over 50 percent of the hired civilian level.
"The people and the manning were key things I was looking at in terms of metrics of judging FOC," Murray told reporters.
AFC has also assumed command of TRADOC's Army Capabilities Integration Center, and renamed the Futures and Concepts Center, as well as Materiel Command's RDECOM, which became the Combat Capabilities Development Command responsible for linking technology development with future operational concepts.
Murray is also currently assessing a draft version of the Army's updated modernization strategy, which he said will likely be released this summer and expand beyond materiel concerns to cover considerations for organization, training, leadership and facilities.
"We're going to address each of those areas in terms of key activities over the 10 years to help TRADOC drive that into synchronization and integration," Murray told reporters in comments following his press briefing.
AFC is currently working with the University of Texas to build a robotics institute and with Texas A&M on hypersonics and directed energy research, as well as a future facility to be used as a "soldier development center."
Murray also addressed a GAO report released Wednesday that called on Futures Command to improve its engagement with small businesses, noting that he is in the process of hiring a lead for a new small business office (Defense Daily, July 18).
"I agree with the GAO report. Small businesses are key to our success," Murray said. "The funny thing is if I talk to defense primes they're convinced all we're working with is small business, and if I talk to small businesses all they're convinced is we're working with the defense primes. It's going to take a combination of both to accomplish our mission. In many ways, a combination of both working together."