The leaders of a new House Armed Services supply chain task force said their goal is to deliver a concise report in the next few months with legislative proposals for addressing critical vulnerabilities, to include a focus on China and semiconductor manufacturing challenges. 
Reps. Elissa Slotkin (D-Mich.) and Mike Gallagher (R-Wis.) told reporters Wednesday the Defense Critical Supply Chain Task Force will work in tandem with ongoing efforts in the Biden administration and look to incorporate recommendations during this year's National Defense Authorization Act (NDAA) mark-up process.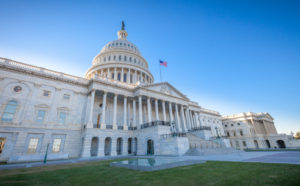 "The questions that we're going to be taking on in this task force really are aimed at identifying the vulnerabilities in our supply chains and recommending legislation that we can produce for this year's NDAA that would hopefully, hand in glove, work with other reviews that are going on led by the administration to try and mitigate some of those risks," Slotkin said.
Slotkin said the pandemic specifically highlighted key choke points in the defense industrial base, with Gallagher adding that the task force wants to help avoid a situation where China could "weaponize key supply chain dependencies in the event of an escalation or crisis."
"Simply put, none of this is sustainable. We cannot afford to have our defense industrial base experience the kind of supply chain disruption that our medical sector experienced during the early days of the pandemic," Gallagher said.
The task force, which was announced last week and will work for at least three months, has asked the Pentagon for a list of its critical supplies and current vulnerabilities, with a goal to provide an actionable report to address challenges rather than "another 300-page report that sits on a shelf," Slotkin said. 
Last month, the White House issued an executive order tasking federal departments and agencies with assessing the nation's supply chains for a number of products to make them more resilient and secure, to include production of semiconductors used in a range of advanced technology efforts (Defense Daily, Feb. 24). 
Gallagher noted that China and Taiwan, when factored together, are reported to control about 70 percent of integrated circuit production, highlighting a need for the task force to address bolstering domestic microchip manufacturing.
"That is an extreme geographic concentration right in the [Chinese Communist Party's] backyard, which means that in a crisis the CCP could effectively shut off our ability to procure the building blocks of the advanced technologies that drive our national defense and civilian economy," Gallagher said.
A House Armed Services Committee cyber panel is set to hold a hearing on Friday with the chairs of the National Security Commission on Artificial Intelligence (NSCAI), which recently submitted a report to Congress calling for around $30 billion over the next five years to improve semiconductor manufacturing (Defense Daily, Feb. 22). 
"If you bring in Bob Work, [the NSCAI vice chair and former deputy secretary of defense], who really knows the interior of the defense industry of the Defense Department and Eric Schmidt, [NSCAI vice chair and former Google CEO], on the outside, that's a really powerful group. And their recommendations to me are very strong," Slotkin said. "We're getting a briefing this week and we'll happily steal good ideas from them."
Gallagher noted his prior experience leading the Cyberspace Solarium Commission and its work with NSCAI, particularly citing an importance for support enhanced research and development efforts to ensure the U.S. remains ahead of China in AI development.
"We've engaged with the AI commission over the last couple years during the [Cyberspace Solarium Commission] I worked on and we were aligned on the overall idea of increasing federal investment in R&D and then modernizing the way in which some of that money gets awarded to research universities which in turn results in new businesses being produced," Gallagher said.