The head of U.S. Indo-Pacific Command on Wednesday told a congressional panel he sees directed energy weapons are the "way of the future," particularly in helping with terminal defense.
During a House Armed Services Committee hearing, Rep. Jim Langevin (D-R.I.) asked Adm. Philip Davidson how does he envision using the incoming directed energy weapons in his area of responsibility. Langevin noted the 150 kW Laser Weapons System Demonstrator (LWSD) aboard the USS Portland (LPD-27) is due to deploy into the Indo-Pacific region next year while the Navy is working with Lockheed Martin [LMT] on the 100-kW-range High Energy Laser and Integrated Optical-dazzler with Surveillance (HELIOS) for use on a destroyer.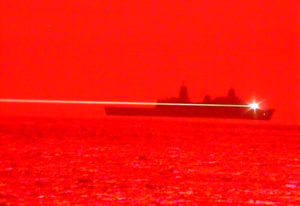 Davidson said he believes "the capability that Portland is bringing and then in the future our ability to marry that directed energy with the Aegis Weapons System is really going to help us in our terminal defenses."
Lockheed Martin announced in January it delivered the production unit HELIOS system to the Navy for installment on a DDG-51 Flight IIA destroyer later this year (Defense Daily, Jan. 11).
HELIOS sends a single laser beam to smaller targets like unmanned aircraft systems and small fast attack boats, (UAS) and small fast attack boats; provides a counter-UAS intelligence, surveillance and reconnaissance (ISR) dazzler capability; and provides additional ISR data to a ship's combat system. It is fully integrated with the Aegis Combat System.
Davidson said the military will find over time the need to defend its network of sensors "is going to be extremely important going forward to project long range fires, whether those are offensive or defensive fires."
"We are going to have to layer in some defensive weapon capabilities and this is where I think directed energy is going to make its entrée into the joint force. Very encouraged by it," he added.
Davidson was also asked how he is making sure high-level planners understand these kinds of new capabilities and utilize them to the full potential.
"One of the things we did at Indo-Pacific Command was to create a process for planning and operations collaboration that pulled on the very narrow set of people that have the highest classifications that address the highest technologies that we're bringing in the force – to make sure that our future plans are developed in a way that understand those high classification/high technology priorities."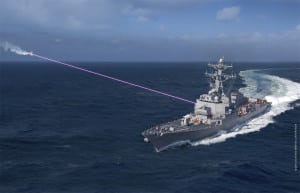 Davidson said he believes addressing this via that process has been "extraordinarily helpful" in his headquarters.
He said this bureaucratic process is also going to be the way of the future when dealing with these kinds of new technologies.
"At the end of the day, we're going to have to have more people understand these technologies at the appropriate classification level in order to introduce these properly into our planning and operations."
Last May the Navy successfully shot down a UAS using the Portland's LWSD in a test while operating off Pearl Harbor, Hawaii (Defense Daily, May 26, 2020).
The Navy first announced LPD-27 would receive the laser weapon in 2018. It is fitted into a space originally reserved for the Vertical Launch System (Defense Daily, Jan. 10, 2018).
The LWSD was developed by the Office of Naval Research as a next-generation follow-on to a previous 30-kW Laser Weapon System previously tested on the USS Ponce while serving in the Middle East.