A House panel is looking to have the Navy brief it on adding mine countermeasures (MCM) systems on Expeditionary Sea Base (ESB) ships and adding lasers to current and future destroyers.
In its mark of the fiscal year 2022 defense authorization bill, the House Armed Services Seapower and Projection Forces Subcommittee said "the committee recognizes that the ESB has command, control, communications, computers, and intelligence (C4I) spaces that could provide mission planning and execution of MCM operations."
Therefore, it would direct the Secretary of the Navy to brief the committee on the "feasibility and cost of incorporating MCM capabilities on all ESB platforms" by March 1, 2022.
The committee noted that while the MCM Mission Package (MP) designed to be used on the Littoral Combat Ship (LCS) is meant to replace legacy MCM platforms in service past their intended service lives, "operational tests of this system on LCS have faced technical challenges and delays in fielding."
The committee said "it is imperative" the Navy fill an equal or greater mine countermeasures capability before those legacy platforms, like the Avenger-class MCM ship, can be retired.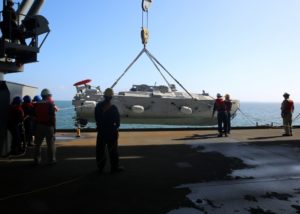 It also said various components of the MCM MP have been deployed from the Lewis B. Puller-class ship USS Hershel "Woody" Williams (ESB-4) "and have potential when operated from this platform, either in conjunction with or independently from LCS, to provide a robust mine countermeasures package, which is urgently needed."
The LCS MCM is intended to operate from vessels of opportunity more generally, beyond just Littoral Combat Ships.
The Navy first tested an MCM MP from ESB-4 in September 2019 while operating in Chesapeake Bay. The test involved the mission package portable control station to maneuver the MCM equipment and the launch and recovery of equipment as well as testing the command and control of unmanned vehicles used in the MCM package (Defense Daily, Sept. 23, 2019).
At the time, the Navy said initial assessments showed positive results and demonstrated the modularity of the MCM MP.
The LCS MCM systems include the Textron [TXT] Common Unmanned Surface Vessel (CUSV) that tows systems like the unmanned surface sweep system and Raytheon Technologies' [RTX] AQS-20 mine hunting sonar, General Dynamics' [GD] Knifefish surface mine countermeasure unmanned underwater vehicle, Sikorsky [LMT] MH-60 helicopters equipped with the Northrop Grumman [NOC] AN/AES-1 Airborne Laser Mine Detection System (ALMDS) and Raytheon AN/ASQ-235 Airborne Mine Neutralization Systems (AMNS), and the Northrop Grumman MQ-8B Firescout unmanned helicopter.
Separately, the mark would direct the Navy Secretary to brief the committee by Dec. 1, 2021 on a plan "describing a path forward for integration" of High Energy Laser Systems (HELS)  at levels over 150 kW of power onto the future DDG(X) ship class and address installation plans on other surface combatants, like Arleigh Burke-class destroyers.
The subcommittee said it is "encouraged" by the service's progress in testing and deploying HELS, like integrating the 150 kW-class solid state Laser Weapon System Demonstrator (LWSD) on the San Antonio-class amphibious transport dock ship USS Portland (LPD-27) in 2019. 
The Navy successfully shot down an Unmanned Aerial Vehicle (UAV) using LPD-27's LWSD in 2020. It was developed by Northrop Grumman with funding from the Office of Naval Research (Defense Daily, May 26, 2020).
The bill said such a system is an improvement over the previously-tested Laser Weapons System (LaWS) and "will provide a valuable capability to counter unmanned aerial systems and fast inshore attack craft, as well as intelligence, surveillance, and reconnaissance capabilities on its upcoming deployment."
LWSD is a follow-on to the previous 30-kW LaWS that was tested on the USS Ponce (LPD-15) for years while serving in the Middle East.
The subcommittee also underscored the planned integration of the 60kW-range High Energy Laser and Integrated Optical-dazzler with Surveillance (HELIOS) and 30 kW Optical Dazzler Interdictor Navy (ODIN) systems on Arleigh Burke-class destroyers this year 2021.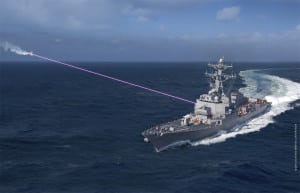 HELIOS targets a single laser beam on small targets like UAVs and small fast attack boats while ODIN dazzles or blinds electro-optical and infrared detection sensors to confuse seekers on cruise missiles or cameras on aircraft and vessels.
The Navy installed the ODIN on the USS Dewey (DDG-105) in 2019 and plans to install seven more on surface vessels. 
In January, Lockheed Martin delivered a HELIOS system to the Navy that is planned to be installed on a Flight IIA Arleigh Burke-class destroyer this year (Defense Daily, Jan. 11).
"The committee is eager to facilitate the widespread adoption of this necessary capability, but is concerned about inadequate Space, Weight, Power and Cooling, Service Life Allowances in currently deployed ships and a robust industrial base. Lastly, the committee would like to avoid backfitting costs by ensuring future ship design plans include HELS."
In 2019, then-director of Navy Surface Warfare Rear Adm. Ron Boxall said while the first HELIOS was planned to go on a Flight IIA destroyer, it will be harder to install it on the new Flight III destroyers because they use more of the power generation on the ship for the new SPY-6 Air and Missile Defense Radar (Defense Daily, March 20, 2019).
"We are out of schlitz with regard to power. We used a lot of power for that and we don't have as much" extra for additional functions, Boxall said.
To get a HELIOS on a Flight III destroyer would take removing something to "very aggressive power management," Boxall added. He noted that was one of the reasons the Navy was looking to wat is now called DDG(X) with more margin for more energy to be used on laser weapons and higher power radars.