The Navy is planning to install the High Energy Laser and Integrated Optical-dazzler with Surveillance (HELIOS) directed energy (DE) system on a DDG-51 Flight IIA destroyer by FY 2021 as it learns how to integrate laser weapons on its ships, a top official said Wednesday.
Rear Adm. Ron Boxall, director of Navy Surface Warfare, called characterized the Navy's plans to integrate directed energy weapons as "yes we are going to burn the boats if you will, and move forward with this technology."
Boxall said the Navy plans to install a HELIOS system on a West Coast DDG-51 in 2021. "It's already POM'ed in there to do that, hopefully a West Coast destroyer in '21, onboard. We'll be testing it and then putting it aboard the ship."
The Lockheed Martin [LMT] HELIOS will consist of a 60-150 kW single laser beam that can target unmanned aircraft systems (UAS) and small boats. The HELIOS is expected to be integrated on to a destroyer for its lifetime.
The weapon will also feed intelligence, surveillance and reconnaissance (ISR) data into the ship's combat system and provide a counter-UAS (C-UAS) ISR dazzler capability. The dazzler uses a lower power setting to confuse or reduce ISR capabilities of a hostile UAS.
Boxall said he is confident increased DE power outputs will come, but he is not yet confident in integrating them into existing combat systems.
"Because if I'm going to burn the boats, I'm going to replace something that I have on ships today doing that mission with these weapons. And if I do that, I've got to be confident that it's going to work and it's going to cover those missions."
He added that if a ship has a new DE laser weapon that will both sense and kill targets, "then I have to make sure it integrates with the other things that I have on my ship that can sense and kill – namely the Aegis weapon system. And so to me the most important aspect of the integrated laser is its integration into my existing combat system, period."
While Boxall is confident the Navy can continue to increase laser weapon power on ship, one major limiting factor is power margin.
The first HELIOS going on a destroyer will go on a Flight IIA ship, but the Flight III as a downside that it uses almost the same hull but focuses more power generation on the new AN/SPY-6 Air and Missile Defense Radar (AMDR). The AMDR will better detect air and missile threats, but "we are out of schlitz with regard to power. We used a lot of power for that and we don't have as much" extra for additional functions.
Boxall said to get a HELIOS on a DDG-51 Flight III, the Navy will have to either remove something or look at "very aggressive power management." This is part of the calculus in the successor to the DDG-51, the Large Surface Combatant (LSC).
That "drives us to why one of the main reasons we need a new large surface combatant is that margin for power weapons, energy weapons, higher power radars, electronic warfare systems, and all of the things we need for more and more power," Boxall said.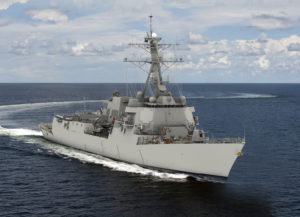 If the Navy needs a power magazine for power-intensive weapons like lasers and railguns, it needs to generate enough power and a ship big enough to carry that power plant. Boxall said this means something bigger than an Arleigh Burke-class ship with a larger power generating capacity.
"That is really the underlying principle to why we believe that we're not going to probably keep that DDG Flight III, we're going to have to move to a new hull to accommodate it. Using largely the same systems on there, which are growing more and more common with the rest of our fleet, but with the margin and the flexibility and adaptability to build that bigger and more powerful laser."
He admitted the Chief of Naval Operations (CNO) challenged the service to get the LSC in FY '23 but as FY 2020 budget request documents reveal "we are on track to kind of look at that in the '23 timeframe really right now."
Boxall said whether or not the Navy can push that timeline ahead, in the 2023-25 timeframe the service expects to have a new LSC with a key element being its power and energy pluggability for future laser and other high energy weapons.
The Navy's FY '20 budget documents revealed the Navy is pushing back funding for the LSC to the 2024-25, only releasing an RFP in 2024.(Defense Daily, March 19)
In contrast, last year Boxall said the Navy aimed to have the LSC on contract by 2023-24 (Defense Daily, Oct. 29, 2018).
Last year, the Navy awarded Lockheed Martin a $150 million contract to develop two HELIOS systems in early 2018, with one to integrate on a DDG-51 and one for land-based testing (Defense Daily, Feb. 2, 2018).
However, the FY '19 defense authorization bill restricted the Navy to only one HELIOS per fiscal year without first receiving a detailed contracting and acquisition strategy report.
The HELIOS will not merely be bolted on the ship, but integrated into its Aegis combat system to direct the DE weapon (Defense Daily, March 2, 2018).
More recently, in January Lockheed Martin officials said they plan to put HELIOS through a production design review in 2019 (Defense Daily, Jan. 16).