The Navy's FY 2020 budget request pushed back funding for the planned Large Surface Combatant (LSC) to the mid-2020s while laying out the program's schedule, expecting to release an RFP by 2024.
Officials previously said they were hoping to have the LSC on contract by the early to mid-2020s, but preliminary FY '20 budget summaries only provided $71 million in funds via the research, development, test and evaluation (RDT&E) account (Defense Daily, March 14).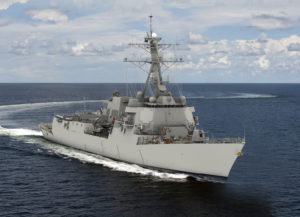 The service's full FY '20 justification documents reveal the Navy plans for a preliminary design phase (PDP) 1 to occur in FY '20, system requirements review in the 4th quarter of FY '20, PDP 2 lasting from the 4th quarter of FY '20 to the 3rd quarter of FY '22, a system functional review in the 3rd quarter of FY '22, contract design lasting from the 3rd quarter of FY '22 to the 4th quarter of FY '23, a preliminary design review in the 4th quarter of FY '23, and finally a request for proposals to last all of FY '24. That means the first ship will not be bought until 2025 at the earliest.
More immediately, the Navy more expects to award a systems engineering contract worth over $46.5 million in December 2019. This will cover concept development of the vessel.
Last month the Navy issued two LSC RFIs as part of a requirements development process, with responses due April 1 (Defense Daily, Feb. 26). Responses to the RFIs will help the Navy's development process.
Over FY '20 the Navy plans for the LSC program office to conduct additional concept refinement in PDP 1, culminating in the system requirements review at the end of the fiscal year. The service will use set-based design to narrow subsystem trade space, allocate draft capabilities development document (CDD) requirements, develop a draft ship concept of operations (CONOPS), and develop an initial ship baseline design to start PDP 2.
PDP 2's main goal will be refining the initial baseline into a ship functional baseline. During this phase the Navy will downselect major ship systems and subsystems, including hull form and power and propulsion systems; start hull form scale model testing; and develop draft ship specifications and validate CDD performance objectives.
In October, Rear Adm. Ron Boxall, Director of Surface Warfare (N96), said the Navy has been shooting to get an LSC on contract in the FY 23 – 24 timeframe. Boxall presented LSC as a ship that can succeed the profile of the Arleigh Burke-class Flight III DDG-51 destroyers, fielding DDG-51 capabilities in a new, larger hull with added capabilities and flexibility (Defense Daily, Oct. 29, 2018).
Last week Chief of Naval Operations (CNO) Adm. John Richardson told reporters that a fast modernization process for the LSC is an important factor in developing it, but the Navy still has to first work out its technologies and priorities (Defense Daily, March 4).
Budget documents describe LSC as a "new ship evolutionary acquisition program essential to the Future Surface Combatant Force. The purpose of the program is to initially integrate non-developmental systems into a new hull design that incorporates platform flexibility and growth capabilities to meet projected future Fleet system requirements."
The documents said the "initial LSCs will leverage DDG 51 Flight III combat systems as well as increased flexibility/adaptability features including expanded Space, Weight, Power & Cooling Service Life Allowances (SWaP-C SLA) to allow for more rapid and affordable upgrades in capabilities over the ships' service life and allow for fielding of future high demand electric weapons and sensor systems and computing resources."
Budget documents also list expected capabilities like a Vertical Launch System to accommodate longer and larger diameter missiles, extra capacity for embarked warfare commander and staff, support for 360-degree Directed Energy weapons coverage, and improved radar signatures.
"The design will also incorporate flexibility features to quickly back-fit and forward-fit systems to pace known threats and meet future emergent needs through evolutionary block upgrades and modernization," the Navy said.
Here, the Navy plans to use an "evolutionary acquisition strategy" for LSC that uses an adaptable HM&E design plus open architecture mission systems to allow affordable block buys "utilizing the most up to date mission systems available at the time of acquisition."
The first block of LSCs will use the DDG-51 Flight III combat system, plus additional capabilities. While the design for Block 1 is ongoing "there will be aligned activity to work feasibility studies and concept refinement and technology maturation for block 2," the Navy said.
Design activities will start at a low level of effort but then ramp up as Block 1 goes into the detail design phase. The budget request noted "block 1 and block 2 efforts would be closely aligned to ensure consistency and seamless handover from block 1 to block 2 design."