The Navy's FY 2020 budget request delays the service's planned Large Surface Combatant (LSC) as it works on developing and fielding new technology in the shorter term.
Navy officials previously said it aimed to get the LSC, which the service plans to succeed the Arleigh Burke-class Flight III DDG-51 destroyers, on contract by the mid-2020s. However, the Navy budget documents released so far only provide $71 million in funds through the research, development, test, and evaluation (RDT&E) account.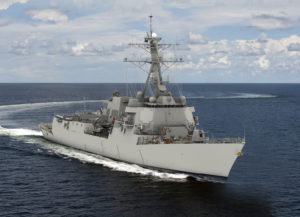 In October, Director of Surface Warfare (N96) Rear Adm. Ron Boxall said since 2017 "now we have a very clear goal to get a large surface combatant on contract in the '23 to '24 time frame" (Defense Daily, Oct. 29, 2018).
Boxall said Chief of Naval Operations Adm. John Richardson is "very adamant" on getting an LSC that takes DDG-51 Flight III capabilities and puts them in a new, likely larger hull.
"We're at the limit of what we can put on the DDG 51 hull. We want to take the capability that we like in the DDG Flight III and move it over to a new and larger hull so it's got room and opportunity for growth," Boxall said.
The Navy expects to move to the LSC after it builds 10-12 DDG-51 Flight IIIs. Boxall also underscored the Navy needs to be able to update the new ships more frequently, less dramatically, and at a lower cost.
The LSCs need to have "the ability to be upgraded in stride, without these long, expensive modernization periods typically required for really top-end platforms," Boxall said in October.
Last month the Navy issued two RFIs for the LSC as part of a requirements development process, with responses due April 1 (Defense Daily, Feb. 26).
Richardson told reporters on Wednesday during the annual McAleese defense conference that a faster modernization process for the future LSC is still an important factor in developing the ship, but the service has to work out the technologies and priorities.
"First question that we have to do is prove to ourselves that we need a large surface combatant. What is the unique contribution of something like that in the face of all of these emerging technologies? Right now, the discussions point to the fact that it brings a unique capability in terms of being able to house in larger types of weapons,  larger missiles. You certainly get more aperture on a bigger sensor and those sorts of things," Richardson said.
The CNO said they are looking at how to add to the LSC the more efficient upkeep they are already trying to add to smaller surface combatants like the upcoming future frigate, FFG(X).
"Ok let's define, take advantage of what we know in terms of those technologies that exist – hull forms, propulsion plants, those sorts of things and then design the ship to modernize in stride. So I don't know to come in for a 10-month upkeep to modernize, I can come in for a 10-day upkeep and modernize. And so the interfaces and everything that are associated with that are built in early."
While the LSC is not getting much attention in the FY '20 budget, the Navy is pushing to spend $2.7 billion to build 10 large unmanned surface vehicles (LUSVs), including $400 million for the first two vessels under the RDT&E account (Defense Daily, March 13).