General Dynamics Land Systems [GD] recently demonstrated its Tracked Robot X-Ton, or TRX, robotic vehicle for the Army and is planning to participate in the Army's major company-level Robotic Combat Vehicle (RCV) experiment in the summer of 2022, a company official told Defense Daily
.
Tim Reese, GDLS' business development director for U.S. operations, said during February and March's Army Expeditionary Warrior Experiment at Fort Benning in Georgia the company showcased TRX with a logistics payload that soldiers then used to perform tactical resupply exercises.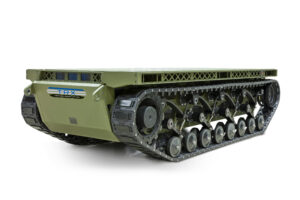 "The TRX has a very high payload-to-weight ratio, innovative structure and suspension system, excellent cross-country mobility, hybrid electric drive, and a sophisticated electronic vehicle architecture. The TRX's innovative capabilities enable it to perform combat, combat support and combat service support roles with lethal and nonlethal mission equipment packages," Reese said.
TRX was unveiled in October during the virtual AUSA conference, where the company detailed the "low-cost, multirole, multi-payload, semi-autonomous, ground robotic" platform, which Reese said could be aimed at both the RCV Light and Medium, or RCV-L and RCV-M, efforts. (Defense Daily, Oct. 8).
The Army had previously tapped GD to submit a proposal for RCV-M, before ultimately selecting a Textron Systems [TXT] team to deliver its platform for the ongoing prototyping effort to inform final requirements (Defense Daily, Jan. 9 2020).
Reese said TRX will be included in next year's Phase 2 RCV experiment, which will take place at Fort Hood from June to August 2022, in a role to be specified by the Army's Next-Generation Combat Vehicle Cross-Functional Team (NGCV CFT).
The company previously told Defense Daily that it expects to compete for RCV-M once it moves into a program of record, with the Army expected to use the Phase 2 experiment to inform a Milestone B decision for both the RCV-M and RCV-L programs.
"We believe in the vision of the NGCV CFT RCV team regarding the roles that medium-class robotic vehicles can play on the battlefield, and we are laser-focused on providing our Army customer with the most innovative ground vehicle capabilities. Our engineers and program managers are constantly pushing the technical envelope to develop solutions to the complex requirements of Manned-Unmanned Teaming," Reese said.
In September, GDLS is also planning for TRX to participate in the Army's Maneuver Support, Sustainment, and Protection Integration Experiment at Fort Leonard Wood in Missouri.
"In that experiment, the TRX will have three different capabilities related to obstacle reduction," Reese said. "We are partnering with another defense company for the engineering payloads and with the Maneuver Support Center of Excellence exercise leadership for the tactical vignettes at the experiment."