The State Department last Friday approved two potential Foreign Military Sales (FMS) deals with Greece worth $9.5 billion in total for Multi-Mission Surface Combatant (MMSC) ships and upgrades to its Hydra-class MEKO 200 frigates, which would be awarded if the U.S. is selected as the winner of Greece's frigate modernization program.
Both the $6.9 billion deal covering four new ships and $2.5 billion for upgrades to four of Greece's existing frigates are part of the country's international competition for the Hellenic Navy (HN) MEKO Class Frigate Upgrade program.
The four new ships would be built by
Lockheed Martin [LMT] and based on its Multi-Mission Surface Combatant design.
Under the deal, if the U.S. is selected as the winner, the new ships would also include COMBATSS-21 Combat Management Systems, Mk 41 Vertical Launch Systems, 200 RAM Block 2 missiles, five Mk 49 guided missile launcher systems, 32 vertical launch anti-submarine rocket missiles, M240B machines and 32 Mk-54 all-up round lightweight torpedoes.
Greece has a competition to upgrade its Hydra-class MEKO 200 frigates, gain an interim capability while the MEKOs are being upgraded, and buy four new frigates.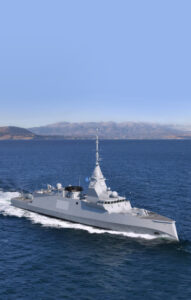 "This proposed sale will support the foreign policy and national security objectives of the United States by helping to improve the security of a NATO ally, which is an important partner for political stability and economic progress in Europe," the State Department wrote in a statement. "Greece contributes to NATO operations in Kosovo, as well as to counterterrorism and counter-piracy maritime efforts."
The potential $2.5 billion for upgrades to four of Greece's existing frigates, if the U.S. is selected, would include providing eight Close in Weapon Systems (CIWS) Phalanx BLK 1B Baseline 2 upgrade kits, four Mk 45.5" 54 caliber gun overhauls, four MK 49 Guided Missile Launcher Systems; four COMBATSS-21 Combat Management Systems; and four AN/SQS-56 Sonar overhauls.
That work would include Lockheed Martin, Raytheon Technologies [RTX], BAE Systems and VSE Corporation [VSEC] as prime contractors, according to the State Department. 
"The proposed sale will improve Greece's capability to meet current and future threats by providing an effective combatant deterrent capability to protect maritime interests and infrastructure in support of its strategic location on NATO's southern flank," the State Department wrote. 
This approval came after a September agreement when the Greek Minister of Defense, the CEO of Naval Group and the CEO of MBDA signed a Memorandum of Understanding (MoU) to start negotiations to provide three to four Defense and Intervention Frigates (FDI HN) worth $3.5 billion for the new ship portion of the competition (Defense Daily, Sept. 21).
That MoU did not include the signing of full contracts, which are not completed yet. 
Industry sources who were not able to comment on the record due to the competition operating on a government-to-government FMS level said that Greece formally sent the U.S. a letter of request (LoR) summarizing its requirements. They said this latest U.S. approval covers the full range of potential components in a letter of agreement (LoA). Once the LoA is submitted, in a subsequent step, Greece can negotiate whether it wants all or some portions of this offering.
The industry sources said the U.S.-Lockheed Martin offering remains an option if the French deal falls through and is also flexible enough to tailor capabilities to the Hellenic Navy's needs as a partial option in addition to the French deal.
On Dec. 13, the Greek Ministry of National Defense released a statement announcing "that a decision has been made by the government to proceed with the procurement of three French Belharra-class frigates."
"All the necessary procedures have been planned so that the negotiations will be completed soon. Over the next time period, the contracts will be submitted to the competent bodies of the Parliament for vote," the ministry continued.
The industry sources said beyond new ship construction, other requirements in the LoA include interim solutions and the U.S. government could offer options like Littoral Combat Ships, the basis of the MMSC, to provide quick interim sea platforms.