The Pentagon's Joint Artificial Intelligence Center (JAIC) is looking to bring together stakeholders from across the department to build out a network of operating platforms that will enable the use of new artificial intelligence tools developed on the organization's common development platform at the tactical edge.
Marine Corps Lt. Gen Michael Groen, the director of JAIC, told reporters on Friday this operating layer is the next critical step in proliferating AI integration across the department, and it will look to get after ensuring the necessary data storage and processing capabilities are in place for employing new algorithms.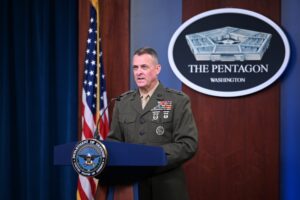 "If you take those developmental algorithms and you're going to employ them in a steady state basis, in a combatant command or a warfighting situation, then you need a network of operating platforms that you can do this same thing," Groen said. "As we evolve developmental platforms into a fabric, and we move that up into the operational level and integrate service networks into a global network, this will give us the capability to have global situational awareness and to achieve the goals that are described in JADC2 which is to have any sensor work with any shooter."
This operating layer of networks will build on the new Joint Common Foundation (JCF) development platform, which Groen said in March had recently reached Initial Operational Capability (Defense Daily, March 23).
Deloitte was awarded a four-year, $106 million deal last August to design JCF, which serves as a cloud-based AI environment that different DoD entities can use to build on algorithms and work on new projects.
Groen reiterated on Friday that JCF will help to stitch together the various development environments across the services and DoD agencies in order to "share authority to operate on networks, access to data sources, algorithms and developmental tools."
Bob Work, a former deputy secretary of defense and a co-chair of the National Security Commission on AI, joined Groen during the press briefing and noted that the commission's final report released last month includes a recommendation for standing up an AI development team at every combatant command.