The Biden administration's fiscal year 2022 budget request includes a $112 billion investment in Pentagon research efforts, the department's largest ever, while calling for nearly $3 billion in cuts to legacy aircraft and ships to fund future weapons system development.
The $715 billion budget request, released last Friday, is a 1.6 percent increase over FY '21 spending levels and includes $211.7 billion for the Navy, a $4.6 billion increase from this fiscal year, and $212.8 billion for the Air Force, an $8.8 billion boost in funding, while the Army would receive $172.7 billion, a two percent decrease from its current topline.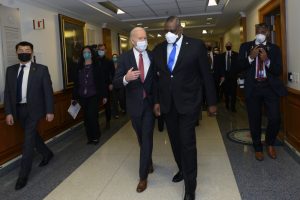 "The request reflects a shift in resources to match our current priorities. Specifically, the department's focus on China requires additional investments for the Navy and the Air Force and the reduction for the Army reflects the president's decision to withdraw all U.S. troops from Afghanistan by the beginning of fiscal year 2022," Anne McAndrew, the Pentagon's acting comptroller, said during a press briefing.
Biden's budget request has already drawn scrutiny from the top Republicans on the Congressional defense committees, in line with previous remarks that a $715 billion topline falls below calls for three to five percent annual budget growth.
"President Biden's defense budget request is wholly inadequate — it's nowhere near enough to give our service members the resources, equipment and training they need," Sen. Jim Inhofe (R-Okla.) and Rep. Mike Rogers (R-Ala.) said in a joint statement. "It's disingenuous to call this request an increase because it doesn't even keep up with inflation — it's a cut. Fundamentally, it does not adequately resource the 2018 National Defense Strategy, forcing impossible choices between readiness and modernization upon commanders and troops." Inhofe and Rogers are the ranking members respectively of the Senate and House Armed Services Committees.

Rep. Adam Smith (D-Wash.), the House Armed Services Committee chairman, however, put out a statement in support of the request and reiterating his view that the topline number matters less than the strategy behind how those dollars will be spent.
"The President's FY22 defense budget reflects the Administration's clear emphasis on China and Russia as key national security challenges, with China being the pacing challenge. To do so, the budget rightly focuses on partners and allies and ensures that the Armed Forces continue to make improvements to military readiness while investing in the research, development, and acquisition of systems and technologies needed to address strategic competition," Smith wrote. "As I've said before, the strategy behind how the Department spends the money is much more important than how much money is allocated."
Under the request, the Pentagon would reduce procurement spending by $8 billion down to $133.6 billion as it looks to shed older equipment and cement a focus on developing new technologies required for future near-peer competition.
"Given the focus on the pacing challenge of China…we must divest of our older, less capable, vulnerable, under-performing systems in order to invest in the capabilities we need most for the future," McAndrew said.
The Air Force plans to divest of $1.4 billion in equipment, to include retiring dozens of A-10s, F-15s, F-16s and KC-135, while the Navy would cut $1.3 billion as a result of decommissioning platforms, to include two cruisers and four littoral combat ships.
The Army, which has previously shifted billions of dollars toward modernization as a result of its "night court" reform process, eliminated just seven programs for a total of $48 million, reflecting officials' comments that cuts were becoming increasingly tough.
The budget reflects Joint Chiefs of Staff Chairman Gen. Mark Milley's remarks to lawmakers last Thursday that the request would be "biased toward the future" as it boosts research and development spending by $5.5 billion, to include $615 million more for science and technology efforts.
This emphasis on advanced technology efforts includes $20.6 billion for space capabilities, $6.6 billion for long range fires development, $2.3 billion to bolster microelectronics production, $874 million for artificial intelligence initiatives and $398 million for 5G technologies.
The Pentagon has included $2.6 billion to continue development of the Ground-Based Strategic Deterrent program to build the future intercontinental ballistic missile, nearly double the FY '21 enacted level, as part of its overall plan to spend $27.7 billion on nuclear modernization.
The budget request also includes $5.1 billion for the new Pacific Deterrence Initiative in FY '22, to include increased investments in Tomahawk and SM-6 missiles, land-based conventional fires capabilities with ranges exceeding 500 kilometers, and hypersonic capabilities such as the Navy's Conventional Prompt Strike capability.