Navistar Defense [NAV] will pay the U.S. government $50 million to settle a complaint that the vehicle manufacturer overcharged the military by inflating the cost of parts for Mine-Resistant Ambush Protected (MRAP) vehicles it produced for the Marine Corps between 2007 to 2012.
The complaint was originally filed by Duquoin Burgess, a former contract director at Navistar, who alleged the company had doctored invoices to reflect fraudulent prices for various MRAP components, including the vehicles' chassis, engines, and suspension systems.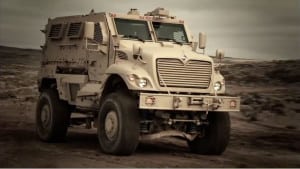 "Mr. Burgess showed enormous courage in bringing this fraud to the attention of the government," attorney H. Vincent McKnight Jr., managing partner of Sanford Heisler Sharp who represented Burgess in the case, said in a statement. "This settlement reinforces the vital role that whistleblowers play in uncovering fraud."
The Department of Justice claims that, during negotiations on a contract modification for the MRAP program, Navistar created false commercial sales invoices to justify its inflated prices.
"We expect those doing business with the government to be truthful and transparent," Brian Boynton, acting assistant attorney general for DoJ's civil division, said in a statement. "Today's settlement demonstrates our commitment to pursue those who knowingly provide false information to government procurement officials for their personal gain."
The complaint filed by Burgess alleges that many of the products in Navistar's fraudulent documents had no commercial sales history, while the commercial price of other parts was often half of what the company charged the government.
In the settlement document, Navistar says the agreement is "not an admission of any wrongdoing or liability" by the company, while the U.S. adds the deal is not a concession "that [the] claims are not well founded."