The Navy's fiscal year 2022 budget request seeks $22.6 billion for eight new battle force ships, cutting a planned destroyer, and also divesting $1.3 billion in capabilities including several cruisers and littoral combat ships, all to focus on readiness and research and development over growing the fleet.
The Navy's total FY '22 budget request of $211.7 billion is an increase of $3.8 billion over the enacted FY '21 budget but the overall procurement level stands at $58 billion, a 5.7 percent decrease.
The department's budget documents said this lower procurement funding will be balanced "to fund the increases in operation and maintenance (up 3.4 percent), military personnel (up 3.5 percent), research and development (up 12.4 percent) and infrastructure accounts (up 13.9 percent) as we seek to innovate and modernize the force while maintaining and enhancing readiness and people-focused programs."
Within procurement, the FY '22 shipbuilding request is three percent lower than the FY '21 enacted appropriations level of $23.3 billion.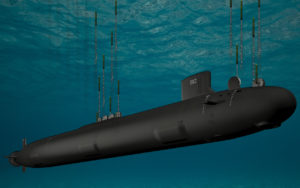 According to a Navy budget highlights document, the service acknowledged this change, arguing "however, the Department carefully balanced resources and requirements, weighing the effects of our program decisions on the industrial base to ensure our nation maintains the skills, capabilities, and capacities critical to our national defense."
FY '22 shipbuilding procurement covers $6.4 billion in two Block V Virginia-class fast attack submarines (SSNs); $1.2 billion to procure the third Constellation-class guided-missile frigate and advance procurement funds for two future ships; $744 million for one John Lewis-class oiler (T-AO 205) and advance procurement funds for a future oiler; $184 million for two Navajo-class towing, salvage, and rescue ships (T-ATS) as the functional replacement for the Powhatan-class fleet tugs and T-ARS salvage ships; and $434 million for the first in a new class of ocean surveillance ships (T-AGOS(X)).
The budget only requests one Arleigh Burke-class DDG-51 Flight III guided-missile destroyer at a cost of $2 billion as part of a 10 ship maximum multiyear procurement contract from FY 2018 to 2022, one less than previously planned.
In May, the Maine congressional delegation wrote to President Biden opposing reports that the budget would fund this sole DDG-51. The destroyers are built by General Dynamics' [GD] Bath Iron Works in Maine and Huntington Ingalls Industries' [HII] Ingalls Shipbuilding in Pascagoula, Miss. (Defense Daily, May 19).
The representatives and senators argued the predictability and stability of the two ship per year procurement rate is needed to maintain the industrial base.
In 2018, the Navy awarded HII a $5.1 billion contract for six Flight III DDG-51s and GD $3.9 billion for four other ships, covering a total 10 Flight III destroyers. The contracts promised one destroyer from each shipbuilder per year from FY 2019 to 2022 to maintain a two-ship per year build rate (Defense Daily, Sept. 28, 2018).
The Navy explained it expects to save $1.3 billion through divestments including decommissioning two Ticonderoga-class cruisers (CG-66 and 68) to save $369 million; the USS Whidbey Island (LSD-41 dock landing ship) for $200 million; and divesting four additional littoral combat ships (LCS-3, 4, 7 and 9) for $186 million.
The FY '22 defense budget documents argued two reasons to decommission the LCSs.
"First, decommissioning of LCSs 3 and 4, primarily test platforms, avoids the cost to upgrade these ships to the common configuration and capability with the rest of the Fleet and allows for investments in higher priority capability and capacity," the documents said.

Moveover, the DoD argued these vessels do not have mission packages assigned to them and the current procurement program does not plan to procure packages for these vessels. This continued the Navy's previous argument to retire LCSs 1-4 after previously receiving congressional permission to retire the initial two vessels.
Separately, the department argued it should decommission LCSs 7 and 9 because they "have experienced major propulsion train casualties (known combining gear issue) and will incur significant associated repair costs. Decommissioning these two ships includes a cost avoidance strategy, so that scarce maintenance funding can be allocated to the highest priority ships. The replacement capability is the FFG 62 Constellation class of ships."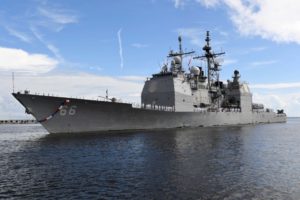 In January, the Navy stopped accepting delivery of the odd-numbered Freedom-variant LCSs delivered by prime contractor Lockheed Martin [LMT] due to a material defect with the combining gear. A design fix is in production but will require factory and sea-based testing before installing it on new and current ships (Defense Daily, Jan. 22).
The department said it plans to decommission CG-66 and 68, in part, "to fund more capable Air Defense Commander Ships."
DoD budget documents argued the divestment allows investment in higher priority capability and capacity generally; divestment enables the Navy to fund other cruisers and prioritize completing other modernization availabilities; cruiser modernization costs have grown to 90 percent, 200 percent more than initial programming estimates; and that from an Air and Missile Defense Commander (AMDC) capability perspective, CG-66 would have likely returned from its modernization work "late to need."
"Due to current delays in early CG Mod ships (> 1 year), the ship would likely not return to operational status until after the low-point inventory of AMDC capable ships. DDG Flight IIIs and selective Service Life Extension of Air Defense Commander (ADC) Cruisers will provide future needed ADC capability," the documents said.
The budget documents also noted the Navy plans to decommission LSD-41 in order to reallocate the LSD force funding towards procuring additional Future Naval Force Structure (FNFS) requirements for Light Amphibious Warships (LAWs). It lists the LPD-17 Flight II ships along with the future LAWs as the replacement capability
The FY '22 shipbuilding account also includes $4.6 billion for the second of three years in incremental funding for the first new Columbia-class ballistic missile submarine as well as continue detailed design efforts, continuous missile tube production and advanced construction and procurement of major hull components and propulsion systems for the new class.
Other FY '22 shipbuilding procurement programs include four Landing Craft Utility 1700 vessels for $68 million; two Ship-to-Shore Connector Landing Craft Air Cushion-100 class vessels for $157 million; $69 million to support a future America-class LHA amphibious assault ship; $61 million for additional incremental funding of the future Flight II San Antonio-class amphibious transport dock USS Pittsburgh (LPD-31); and $2.4 billion to finance the fifth increment of detailed design and construction of the third Ford-class carrier (CVN-80) and girth increment of the fourth new carrier (CVN-81).
The Navy previously awarded HII a two-carrier procurement contract for both CVN-80 and CVN-81 to save about $4 billion over buying them separately.