The Navy awarded Leidos [LDOS] a potential $7.7 billion contract Wednesday for the Service Management, Integration and Transport (SMIT) portion of the Next Generation Enterprise Network Re-compete (NGEN-R).
NGEN is the contract vehicle that provides information technology capabilities and support services to the Navy Marine Corps Intranet (NMCI) and Marine Corps Enterprise Network (MCEN) users and stakeholders.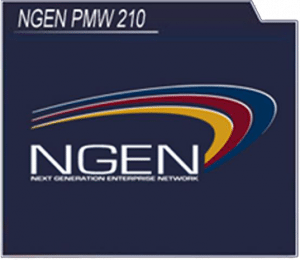 The NGEN-R replaces the legacy NGEN capabilities while also adding IT coverage outside the continental United States (OCONUS) through the OCONUS Navy Enterprise Network (ONE-Net). The Navy also split NGEN into work between an end-user hardware (EUHW) contract and SMIT, hoping to lower overall NGEN costs.
This award comes after the Navy awarded HPI Federal LLC a potential $1.4 billion contract for the EUHW portion of NGEN-R in October. HPI Federal is a subsidiary of HP Inc.[HPQ] (Defense Daily, Oct. 9, 2019).
The SMIT contract covers base network services currently provided under NGEN like electronic software delivery, end user core build, endpoint detection, logistics management, network operations, security operations, service desk, transport and virtualization services.
This contract work will be performed across the Department of the Navy and is expected to be finished by February 2025. It has a base of five years with three one-year option periods. If all options are exercised, work will go on through August 2028 and reach $7.7 billion.
The first task order is being awarded with the basic contract and fulfills a minimum guarantee of $10 million funded via fiscal year 2020 Navy operations and maintenance funds, with the initial task order funding expiring at the end of this fiscal year.
"Leidos is proud to provide Sailors and Marines around the world with the tools they need to gain a warfighting edge in the modern digital landscape. Under the enterprise construct of NGEN-R, we look forward to unifying and fortifying existing networks while providing cost  efficiencies to the U.S. Navy and U.S. Marine Corps," Gerry Fasano, Leidos Defense Group president, said in a statement.
"A mighty force requires a mighty network, and our team stands ready to deliver just that. Our clear-cut past performance in network modernization and transformation enables us to deliver immediate and enduring value through NGEN-R," Dan Voce, senior vice president and Enterprise and Cyber Solutions operations manager for Leidos, added.
The Navy said NGEN-R SMIT sustains the existing network services while transforming ashore Department of Navy networks. It will particularly "focus on network transformation and modernization…to support and enable the DoN's future digital service needs."
Whereas the EUHW contract delivers hardware to over 400,000 seats that use NMCI, MCEN, and ONE-Net, SMIT will provide updated end-to-end information technology services to those hardware devices.
Ruth Youngs Lew, program executive officer for Enterprise Information Systems, said the capabilities and services in the NGEN-R contract will transform the Navy and Marine Corps user working environment "by providing additional flexibility, enabling cloud capabilities and allowing the DoN to operate, maintain and protect critical operational and business platforms."
"Moving from a single-service contract to a multiple contract model provides the DoN with best value by fostering competition among best-in-class service providers," he added.
The Navy's top acquisition official also welcomed the contract.
"This contract will enable the digital modernization of our enterprise networks, which are the foundation for the Department of Navy business. Our future enterprise networks will provide Sailors, Marines and our civilian workforce the tools they need to be more efficient at increasing Naval capabilities – and further empowering our Navy Marine Corps team to compete and win," James Geurts, assistant secretary of the Navy for research, development and acquisition, said in a statement.
Previously, Perspecta won several extensions for operating the legacy NGEN contract while the Navy finished the NGEN-R award. Perspect was launched in 2018 as a merger of DXC's U.S. public sector business, Vencore, and Keypoint Government Solutions (Defense Daily, March 9, 2018).
Perspecta did not compete in the EUHW portion of NGEN-R but was a competitor in the SMIT portion.