With the U.S. government and military eager for a profitable domestic small UAS industry to emerge, software developer Auterion seeks to be part of the solution by bringing together the fragmented industry around its hardware and software solutions, built off of the open-source PX4 ecosystem used by millions of drones flying today.
The Switzerland and California-based startup this week released Skynode, an avionics and wireless connectivity package that drone manufacturers can either purchase as-is and integrate into their platform or license and redesign to fit their requirements.
"Built on top of open standards like FMUv5x, PX4, and MAVLink, Skynode with Auterion PX4 enables drone manufacturers to rapidly enter new markets by making their products compatible with an ecosystem of payloads, components, services, and workflow integrations that give companies the tools they need to deploy large fleets of drones," said Lorenz Meier, co-founder of Auterion and original creator of the open-source PX4 software base.
Skynode is a key component in Auterion's strategy to help drone service providers and manufacturers focus their limited resources, avoid reinventing the wheel and in turn lower their costs — all goals shared by the U.S. military, which continues to raise concerns about the security of Chinese-made DJI drones.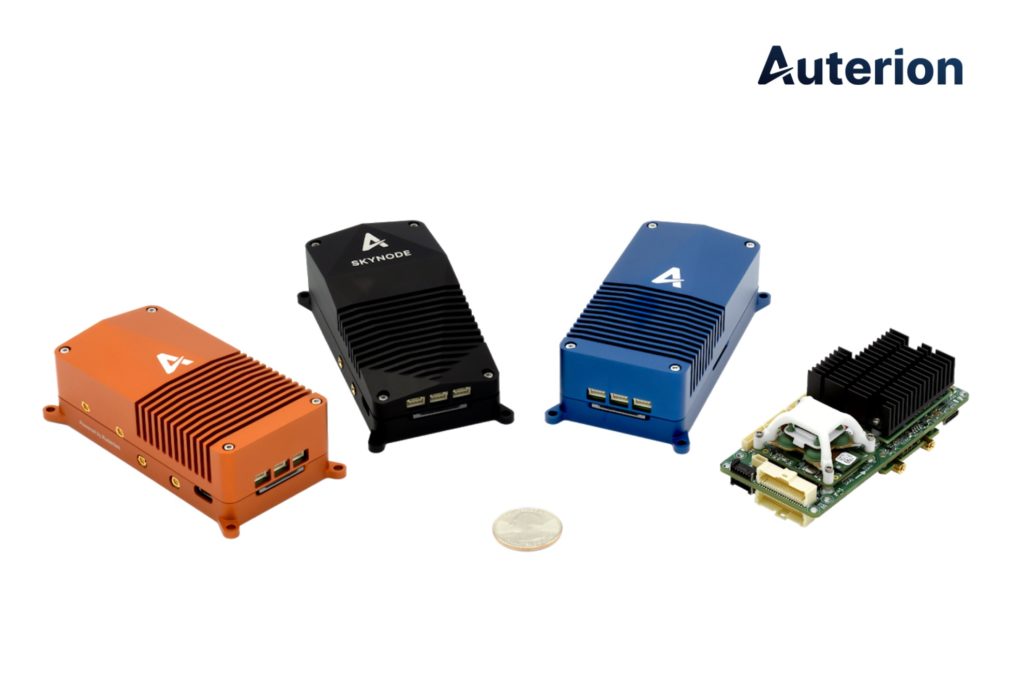 "The Pentagon has to sign off on every Department of Defense use of a DJI drone," said Will Roper, Air Force acquisitions chief, during the recent Agility Prime virtual launch — a program aimed at ensuring the military won't face similar domestic supply problems with electric vertical takeoff and landing aircraft.
The 2020 National Defense Authorization Act (NDAA), signed into law Dec. 20, prevents the military from operating, acquiring or renewing contracts for Chinese drones or drone components, including flight controllers, ground control systems and operating software. Auterion's Skynode and the PX4 software ecosystem comply with the NDAA's restrictions as well as the proposed American Security Drone Act, which is yet to pass either house of Congress.
In May 2019, Auterion was awarded a $2 million contract by the Defense Innovation Unit (DIU) to enhance its software architecture, moving toward standardizing the operating system for all small UAS used by the military and making every drone application — unmanned traffic management, data analysis, detect-and-avoid — plug-and-play across different hardware providers, reducing integration costs and training requirements while providing the Pentagon access to the rapid innovation of an open-source development ecosystem.
That DIU contract was renewed this year, according to Auterion CEO Kevin Sartori, and will convert into a program of record under the U.S. Army's Short-Range Reconnaissance (SRR) effort to purchase systems based on the PX4 ecosystem, such as Quantum Systems' Vector and Scorpion defense platforms, which were released in February in partnership with Auterion Government Solutions, a subsidiary company.
"That first solicitation for the Group 1 software architecture already included PX4, MAVlink, QGC [flight control and mission-planning] — they came to it by using the technology first … and then asking for it more and more," Sartori said. "Now, it's a big part of DIU's strategy, and it's trickling down to other departments."
What's the easiest, cheapest way for companies to meet these requirements? The best way is to work with Auterion, Sartori said. His goal is to model Auterion after Linux Red Hat, which implements the open-source Linux computer operating system for numerous enterprise, government and military customers.
If Auterion's vision of the drone industry's future comes to pass, Sartori believes the Western drone industry could become much more price-competitive with DJI, moreso for enterprise applications than cheaper consumer drones.
"The market that we can really disrupt is closer to $5,000-$10,000 and up, where you can build a drone made in the U.S. that rivals the [DJI Matric] M200 at the enterprise level," Sartori said. "I think we can compete at that level today, provided that we have the hardware companies that will build such a system. And we're lining that up, so mid-year you will see a couple of manufacturers bring to market drones that have the same benefit as an M200 and are compatible on pricing too."
"The cost savings for an enterprise isn't buying a drone that is $2k versus a better drone that is $10k, but rather getting rid of all the integration steps in between," Sartori added. "It's not only the cost of procurement but the lifetime cost of the system."