Germany has rebooted its competition to find a replacement for its CH-53G heavy-lift helicopters, with plans to solicit bids from original competitors Sikorsky [LMT] and Boeing [BA] via the U.S. Foreign Military Sales process.
The news was included in a release from Germany's Rheinmetall where the company announced it's reaffirming its partnership with Sikorsky for the CH-53K offering with a new teaming agreement.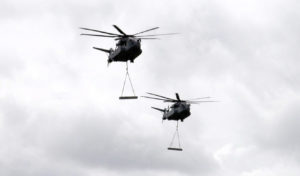 "Having canceled the so-called STH ("Schwerer Transporthubschrauber", heavy-lift helicopter) tender last year, the German Ministry of Defense is currently soliciting bids for the former competitors from the U.S. government in a so-called Foreign Military Sales (FMS) process," Rheinmetall wrote in the statement.
In September, Germany announced plans to scrap the original STH helicopter competition over budgetary concerns, after accepting initial proposals for Sikorsky's CH-53K King Stallion and Boeing's baseline H-47 Chinook. 
"In the case of the CH-53K, the basic version already fulfils all relevant mission requirements of the Bundeswehr," Sikorsky's partner Rheinmetall wrote. "One of the major reasons for this is the CH-53K's air-to-air refueling capability which is available as standard and which greatly expands the aircrafts operational radius."
Paul Beuttenmuller,  with Boeing Global Sales & Strategy Communications for Vertical Lift, also confirmed to Defense Daily the German government is also considering the H-47 Chinook, via the FMS process, to meet the STH program requirements.
"Boeing stands ready to support the Bundeswehr's heavy-lift requirements with the H-47 Chinook, and we remain committed to providing operational capabilities to Germany. With an active and lean production system, Boeing has the capacity to deliver aircraft quickly, affordably and at a high rate, allowing the US Army to deliver a fully functional Chinook in 36 months," Beuttenmuller said. "For more than 60 years, Boeing has been a reliable industry partner to Germany and to the Bundeswehr. Boeing is committed to making that partnership stronger than ever by offering the advanced, affordable, and ready-now H-47 Chinook to meet the country's heavy-lift mission requirements."
Sikorsky has assembled a team of Germany industry partners to include Rheinmetall, MTU Aero Engines, Autoflug and Hydro Systems and Reiser Simulation and Training.
"We have been working intensively and in close coordination to develop a concept on how to best operate and maintain the CH-53K heavy-lift helicopter. The German industry is the perfect partner for this and guarantees the greatest possible degree of independence from foreign companies. We are all the more pleased that we have recently been able to win another exclusive partner," Christian Albrecht, Sikorsky's international business development manager, wrote in a statement. 
The U.S. Navy recently awarded Sikorsky a $550 million contract modification for six more Lot IV low rate initial production (LRIP) King Stallion helicopters (Defense Daily, Oct. 28). 
Deliver of the first CH-53K to the U.S. Marine Corps is set for 2021 to begin initial operational test and evaluation before an expected fleet deployment in 2023-2024.