The Navy announced on Wednesday the USS Gerald R. Ford (CVN-78) aircraft carrier officially completed its 18-month post-delivery test and trials (PDT&T) period at the end of April and outlined the next steps before deployment.
The PDT&T period began in October 2019, following a 15-month post-shakedown availability period that followed a post-delivery test and evaluation period (Defense Daily, Oct. 25, 2019).
The capstone in the PDT&T was completing the carrier's combat systems ship's qualification trials in April that verified ship personnel can operate and maintain combat systems in a safe and effective manner (Defense Daily, April 26).
The Navy underscored over the course of the PDT&T the Ford finished all required testing, certified the flight deck, embarked the air wing, completed work ahead of schedule, improved system reliability for new technologies, and served as the primary East Coast carrier qualification platform for naval aviators.
"Completing Gerald R. Ford's Combat Systems Qualification is a significant milestone. It takes weeks of planning, combat scenario development, target coordination, onboard training, and live ammunition load-outs to ready the ship for operational testing that reflects a real-time, at-sea threat environment, during which the crew employs live weapons against live targets," Capt. Brian Metcalf, PMS 378 program manager for the Ford-class said in a statement.
"Everybody involved in this testing evolution, including the test agencies, weapons ranges, certification authorities, and most importantly, the determined and talented CVN 78 sailors, worked together to make this culminating event happen—and they did so safely, professionally, and with outstanding precision," he added.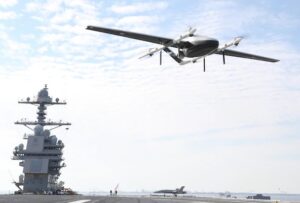 The Navy said the ship qualified or requalified over 439 naval aviators amid testing the performance of combat systems and conducting shore-based maintenance between independent steaming events (ISEs) during the PDT&T.
Program Executive Officer for Aircraft Carriers Rear Adm. James Downey said that planning and collaboration among the Navy program offices, Ship's Force and industry accelerated CVN-78's operational readiness and helped log many more tests of the newest systems, namely the Electromagnetic Aircraft Launch System (EMALS) and Advanced Arresting Gear (AAG).
"When CVN 78 began PDT&T in November 2019, the ship had logged about 800 launches and recoveries. Then we really started stressing the ship's 23 new technologies, especially EMALS and AAG. Now just 18 months later, the ship has logged more than 8,100 cats and traps, with more than 7,300 during PDT&T alone," Downey said.
The Navy noted by November 2020 the carrier remained underway for 25 days during ISE 13 to embark Carrier Air Wing 8 (CVW-8) and conduct integrated carrier strike group operations under Carrier Strike Group 12's operational control.
CVW-8 ultimately underwent over 1,000 launches and arrestments during that steaming event alone, flying up to 50 sorties per day in various weather and sea states.
During these events, Ford hosted a reduced air wing of 35 aircraft, about half of a complete air wing, to help train the personnel in delivering light and heavy inert ordnance.
The Navy said during a 10-day underway period last December, CVN-78's crew completed more than 840 launches and arrestments while qualifying 58 new pilots. It reached a single-day record of 170 launches and 175 arrestments in one 8.5-hour period.
Downey boasted the ship completed most work on or ahead of schedule.
"In 18 months, we corrected 99 percent of the 9,000-plus work items outstanding at ship's delivery. Work completed during PDT&T averaged 113 percent of the plan."
Downey also said the ship "cycled the first seven of the ship's 11 Advanced Weapons Elevators [AWEs] more than 14,200 times, with close to half of those evolutions at sea."
The AWEs have previously been a sore spot for the Ford, with the Lower Stage AWE in particular needed to move ordnance from the ship's magazines to the flight deck. The Navy certified the first lower stage and fifth overall AWE over a year ago (Defense Daily, April 23, 2020).
The second lower stage elevator and sixth overall AWE was certified last July (Defense Daily, July 23, 2020).
AWE's are a new technology meant to improve on older elevators by moving through the ship more quickly, with enhanced carrying capacity, and reduced manning, maintenance and total ownership costs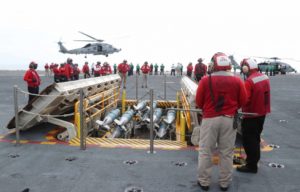 Last year, then-Assistant Secretary for Research, Development and Acquisition James Geurts said the Navy expected all 11 elevators to be ready and certified by the time CVN-78 undergoes shock trials. Geurts is currently acting Under Secretary of the Navy (Defense Daily, April 17).
In March, commander of U.S. Indo-Pacific Command Adm. John Aquilino said the Navy and its industry partner had thus far completed nine of the 11 total planned AWEs (Defense Daily, March 23).
The Navy did not reveal if all 11 elevators are finished yet or if they are still planned to be completed by the shock trials.
Downey said with each new elevator certified the crew ramped up flight deck operations and combat system testing speed.
"CVN 78's sailors are mastering the intricacies of each unique elevator. They're testing design tolerances and doing a great job fine-tuning operation and maintenance best practices toward the goal of achieving full combat system certification aboard the ship," Downey said.
The next event planned in the Ford's schedule is the four-month long Full Ship Shock Trials (FSST) this summer. During such trials the Navy explodes live ordnance near the ship to certify a vessel's hull and systems can survive a hit. Following the FSST, an inaugural six-month Planned Incremental Availability (PIA) is scheduled for September 2021 for additional maintenance work. The PIA will conclude in February 2022.
"While some of the ship's systems and equipment may require repairs during and after the shock trials, the Navy does not expect to see impacts that would jeopardize the safety of the crew or impact future operations," the Navy said.
The service said preparation for the FSST is underway and 99 percent of ship components have been reviewed and made ready for the tests.
Notably, this will be the first time the Navy will conduct underwater shock testing on an aircraft carrier since the USS Theodore Roosevelt (CVN-71) in 1987.
Downey revealed the Navy is on track to "operationally employ" the ship earlier than previously planned in 2019, when the Navy expected deployment in 2024.
"Since then—especially over the last 18 months of planned test and trials events—the team, including the program office, industry, and ship's force has been incredibly successful."
In September, Rear Adm. John Meier, commander of Naval Air Forces Atlantic, said the Ford was on track to be initially deployed in 2022 (Defense Daily, Sept. 14, 2020).
Ford-class carriers are built by Huntington Ingalls Industries [HII], which also builds the AWEs. EMALS and AAG were developed by prime contractor General Atomics.