The Navy said Thursday the sixth overall and second lower stage Advanced Weapons Elevator (AWE) on the USS Gerald R. Ford (CVN-78) was certified on schedule on July 22.
This elevator, Lower Stage Weapons Elevator (LSWE) 1, is designed to move ordnance from the ship's forward magazine to the flight deck via the forward weapons handling and transfer area.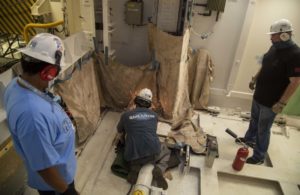 The certification comes after the Navy previously certified the first LSWE in April, LSWE 5. That marked the start of allowing the ship's crew to move ordnance from the aft magazine complex to the flight deck (Defense Daily, June 23).
All of the AWEs are built by CVN-78 shipbuilder Huntington Ingalls Industries [HII].
"LSWE 1 doubles-down on that capability and ramps up the velocity of flight deck operations. LSWEs 1 and 5 will now operate in tandem, providing a dramatic capability improvement as we proceed toward full combat system certification aboard Ford," Rear Adm. James Downey, program executive officer for Aircraft Carriers, said in a statement.
The Navy said CVN-78's crew will operate LSWE 1 during the next underway period to exercise the system in an at-sea environment, train crewmembers, and validate maintenance and operational procedures.
The long-delayed AWEs are a new technology that are designed to work faster at moving ordnance throughout the ship, enhance carrying capacity, and reduce manning, maintenance and total ownership costs.
The service boasted the ship's AWEs have logged over 10,300 cycles overall and, as the number of elevators turned over the ship increases, the crew will "rehearse the complex weapons loading processes in real time with qualifying aircraft, proving the flexibility and versatility of the aircraft carrier's advanced technology."
PMS 378 program manager for Gerald R. Ford Capt. Brian Metcalf argued the key to testing the elevators now is sustained performance over time.
"Each elevator has unique operational capabilities, and on-board training allows the crew to learn how to use the elevators to support flight ops. This rigorous focus on cycling the systems ensures that AWE operations remain sustainable and reliable," he said in a statement.
In April, the Navy's top acquisition official James Geurts said the Navy is planning for all 11 AWEs to be ready and certified for use by the time the Ford undergoes full ship shock trials. The trials are scheduled for the third quarter of fiscal year 2021 (Defense Daily, April 17).
The Navy also noted this milestone was reached at the midpoint of the Ford's 18-month Post Delivery Test and Trials period. During the period, the ship conducts a series of independent steaming events to conduct training while switching to maintenance when it is back in port.
The service said the Ford has launched and recovered more than 3,450 aircraft thus far.