The Army placed its first order with BAE Systems under the $823 million Distributed Common Ground System-Army (DCGS-A) support contract, with the company set to provide a software framework for data and artificial intelligence analytics.
Under the DCGS-A Capability Drop 2 order, announced Thursday, BAE Systems will deliver its Intelligence Knowledge Environment (IKE) for the Army's battle command intelligence system.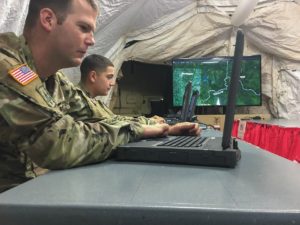 "With a focus on a user-centric analyst experience, IKE rapidly transforms data into intelligence in an easy to learn and scalable manner," Dave Logan, the company's vice president of C4ISR systems, said in a statement. "It helps analysts translate information into actionable intelligence using a collection of tools – some interactive, others that operate autonomously – to enhance the effectiveness of the analyst."
In February, the Army selected BAE Systems and Palantir to compete for orders under a $823 million contract to update and replace parts on DCGS-A (Defense Daily, Feb. 26).
Jeff Bongianino, BAE Systems' director of analytics systems, told Defense Daily a decision on a delivery date for the IKE order will be made by the end of the year.
"Within IKE, BAE Systems will deliver the LEXI software suite, which is a COTS software product for analysts to visualize, access, manage, and analyze data from multiple sources on one screen," Bongianino said.
DCGS-A is the Army's system to manage intelligence operations on the battlefield and visualize data collected from tactical sensors.