The aircraft carrier USS Gerald R. Ford (CVN-78) got underway and headed back out to sea trials off the coast of Virginia on Oct. 25 after finishing a 15-month post-shakedown availability (PSA) period.
Before it got underway, the Ford finished a five-day pierside fast cruise period on Oct. 23 at shipbuilder Huntington Ingalls Industries [HII] Newport News Shipbuilding facility. The Navy said the cruise was a "culminating training evolution designed to bring Ford to life" after the PSA. During the cruise, sailors were put in scenarios to test their ability to respond to different environments.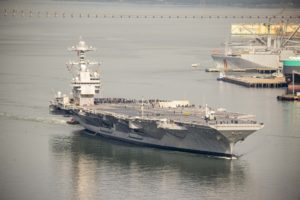 The Ford entered its post-shakedown availability/selected restricted availability upgrade and maintenance period in July 2018 following its post-delivery test and evaluation period (Defense Daily, July 16, 2018).
The previous post-delivery tests had the carrier operate at sea for 81 days, completing fixed-wing and rotary-wing aircraft integration and compatibility testing, among other tests and certifications. As of July 2018, the Navy said the Ford had finished nearly 750 shipboard aircraft launches and recoveries.
In March, Navy acquisition chief James Geurts said the PSA was extended to 15 months to deal with problems with the ship's nuclear propulsion plant, emergent work found during repairs, and installing and testing of the long-delayed Advanced Weapons Elevators (AWEs) (Defense Daily, March 27).
However, early in the year, HII NNS President Jennifer Boykin said the company expected to turn over four upper stage elevators while another four or five lower stage elevators would be in the certification process by the time the Navy finished the PSA and reached this sail away (Defense Daily, Feb. 1).
"I am proud of the crew's efforts to get USS Gerald R. Ford back out to sea. The Navy has diligently tackled issues associated with this first-in-class ship and will continue to do so. All are eager to demonstrate Ford's capacity to deliver combat power. There is more work to do, but this is a great milestone," Secretary of the Navy Richard Spencer said in a statement.
While speaking at a Brookings Institution event on Wednesday, Spencer said the shipbuilder shared the blame for the elevator delays.
During the next phase of testing the ship's crew, HII engineers and shipyard employees will go through a set of events to test and validate systems maintained or modified during the PSA. The Navy said the availability particularly covered combat systems installations, throttle control system improvements, propulsion train component repairs, and corrections to discrepancies identified during prior testing, fully outfitted galley spaces, and completion of 304 berthing spaces.
More notably, during the PSA HII finished construction of four of the long-delayed AWEs and upgraded advanced arresting gear (AAG) water twisters.
"After a challenging post-shakedown availability at Newport News Shipbuilding, the crew is excited to turn their hardhats in and get Warship 78 back out to sea," Capt. J.J. Cummings, Ford's commanding officer, said in a statement.
Following sea trials, CVN-78 is expected to return to Naval Station Norfolk and enter a postdelivery test and trials period that will certify fuel systems, conduct aircraft compatibility testing, certify the flight test, and test installed combat systems.