The Army held its first live fire test with its Robotic Combat Vehicle-Medium (RCV-M) prototype in late June, to include firing an XM813 30mm chain gun and an M240 machine from a Kongsberg wirelessly-operated remote weapon station. 
Officials this week detailed the test, which took place at Fort Dix in New Jersey, and was conducted to verify the RCV-M's turret could be operated remotely from a separate control vehicle, in this case a Mission Enabling Technologies Demonstrator (MET-D) platform.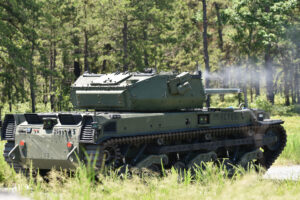 "We want to look at the integration of a turret, which was provided as government furnished equipment to the effort, onto the platform," Mike Mera, an engineer in the Army's Remote Weapons Branch at Picatinny Arsenal, said in a statement. "Here, we're evaluating the armaments integration, but the overall expectation is to get these into the Soldiers' hands and perform some experimentation as part of a regular training regimen down at Fort Hood, Texas, next summer."
The Army's RCV-M prototype is the Ripsaw M5 robotic vehicle provided by a Textron Systems [TXT] team that also includes its Howe & Howe subsidiary and Teledyne FLIR [TDY].
Kongsberg is providing its Protector RT40 remote weapon system for RCV-M, which was used to operate the robotic vehicle's turret in the exercise. 
"The functional check ensures the MET-D and RCV systems communicate properly, messages and data are received on both ends, and the hardware and software also perform as intended," the Army wrote. 
Earlier this year, the Army began the process of integrating its government-developed autonomy software on the four total RCV-M prototypes, which will then undergo "shakedown" testing at Camp Grayling in Michigan to ensure the prototypes can operate in a larger company-level demonstration in 2022 (Defense Daily, March 16). 
The company-level demonstration, or RCV Phase 2 experiment, will take place from June to August 2022 and also involve M113s as RCH-Heavy surrogates, and ultimately be used to inform Milestone B decisions for the RCV-M and RCV-Light prototypes.