The Navy is still planning to move forward on former Secretary of Defense Mark Esper's Battle Force 2045 plan to pursue a 500-ship fleet even though he was fired, a top official said Thursday.
"Are we still going to pursue Battle Force 2045 – I think right now the force structure plan, I want to say it's in staffing at the White House, so…I don't see any change to that right now. We'll have to see how things kind of play out over the next several weeks here, but I don't see any change to that," Vice Adm. William Galinis, commander of Naval Sea Systems Command (NAVSEA), told reporters at a Defense Writers Group event.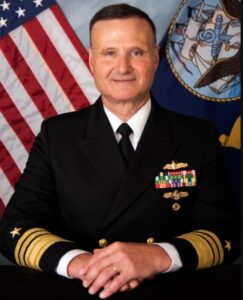 Last month, Esper unveiled the rough outlines of the new Navy future fleet plan that calls for over 500 manned and unmanned ships, including reaching 355 traditional battle force ships by 2035 (Defense Daily, Oct. 6).
However, President Trump then fired Esper on Monday, moving director of the National Counterterrorism Center Christopher Miller to serve as the acting Secretary of Defense (Defense Daily, Nov. 9).
Battle Force 2045 came from a study Esper directed Deputy Secretary of Defense David Norquist to conduct, modifying and superseding the internal Navy Department work previously done on its own force structure assessment and 30-year shipbuilding plan (Defense Daily, Sept. 11).
Battle Force 2045 includes plans for 70 to 80 attack submarines, changing aircraft carriers to have eight to 11 super carriers and up to six light carriers, 140 to 240 unmanned and optionally manned surface and underwater vessels, 60 to 70 small surface combatants like the Littoral Combat Ship and Constellation-class frigate, 70 to 90 combat logistics ships, and 50 to 60 amphibious warfare ships.
Galinis said that despite leadership changes "the underlying analytics and the requirements I think remain sound. How we meet those requirements, you know, maybe that's a topic for further discussion."
The head of NAVSEA also acknowledged there are challenges for the industrial base to reach that kind of shipbuilding plan, particularly on adding more submarines.
"I think there is some capacity challenges out there…especially when you start talking maybe going to three Virginias a year and what it takes to transition from two to three per year. There's some capacity issues, not just in the shipyard but in the supply base as well," Galinis continued.
Esper previously said the submarine changes were some of the most important in the new plan.
"If we do nothing else, the Navy must begin building three Virginia-class submarines a year as soon as possible," Esper said during the Battle Force 2045 announcement.
However, Galinis said there is space to produce a large number of unmanned ships and submarines because they are relatively small vessels.
"Frankly the size of those vessels actually opens the aperture a little bit to maybe some of the shipyards that maybe we haven't traditionally kind of worked with… the small and mid-tier yards that we could probably help bring in to the mix, there's some capacity we can bring into that."
Overall, Galinis said they have to start working to build the future fleet, regardless of the specific plans going forward.
"We just have got to get going. And whether or not that eventually is the plan or not, I don't have enough information at this point to really tell you," he said.