The path appears clear for the Air Force to approve its new combat rescue helicopter to enter production and deployment, the industry partner's program director said Sept. 9.
The new HH-60W rotorcraft, under development by Sikorsky [LMT], has undergone over 116 hours of test flights across five aircraft since first flight occurred this past May. The company completed all flight test data necessary to reach a Milestone C decision and submitted it to the Air Force on Aug. 23, said Greg Hames, combat rescue helicopter (CRH) director at Sikorsky.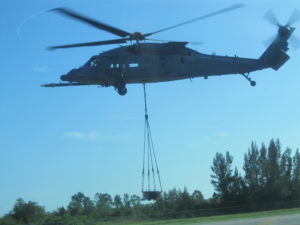 A Milestone C decision announcement is expected later this month, and a rollout ceremony is being scheduled for Oct. 7 at Sikorsky's facilities in West Palm Beach, Florida, with Air Force Assistant Secretary for Acquisition, Technology and Logistics Will Roper already confirmed as speaker, Hames noted.
"I firmly believe that since December, when the Air Force and Sikorsky got together, that we now have established a track record of predictable performance and flawless execution that allows us to go ahead and put us back on the 75-month contract schedule that we are currently operating under," he said. The Air Force did not respond to requests for comment by Defense Daily's deadline Monday.
Four aircraft have performed 114 hours of test flights between May and August out of West Palm Beach, Hames said. A fifth test aircraft has completed over two hours of test flight out of Sikorsky's facilities in Bridgeport, Connecticut.
A 2018 Director of Test and Evaluation (DOT&E) report highlighted several deficiencies in the program related to aircraft survivability targets, but Hames told Defense Daily in June that all but one issue had either been corrected or was in the process of being corrected (Defense Daily, June 25). The outstanding issue, related to a redesigned weapon mounting system that would host the FN Herstal-made machine guns, has since been addressed and all the CRH program's systems have been installed on the aircraft, Hames said Monday.
Sikorsky was selected by the Air Force to replace the service's aging HH-60G Pave Hawk systems and is on contract to deliver nine test aircraft – four engineering, manufacturing and design (EMD) models and five system demonstration test article (SDTA) platforms – and one airframe systems trainer to the Air Force. The $1.6 billion EMD phase contract was awarded in 2014.
Once the Air Force approves the Milestone C decision, Sikorsky will have the green light to begin low-rate initial production (LRIP) of Lots 1 and 2, expected to include about 10 to 12 aircraft, Hames said. The company is in the process of responding to the Air Force's proposal for full-rate production lots 3, 4 and 5, which would each include between 10 and 20 aircraft. The Air Force has indicated it intends to procure 113 aircraft over the program of record for about $7.1 billion.
When the LRIP phase is approved, Sikorsky would begin building around one HH-60W aircraft per month on average, Hames said.
International interest in the aircraft continues to grow, Hames added. Up to six countries received briefings on the aircraft from Sikorsky, although Hames declined to share more details and referred further queries to the Air Force.
He noted that as more interest comes from foreign partners, "it has a positive direct impact on the U.S. Air Force themselves because it reduces unit price, so there's a huge cost benefit as well."