The leaders of the House and Senate have each announced plans to buy time for Congress to move through the fiscal year 2020 appropriations process by passing a continuing resolution, but the chambers each have their own proposed process.
The Senate will move quickly to pass as many regular appropriations bills as possible, and then pass a "temporary continuing resolution" for any outstanding bills to keep those parts of government open, said Senate Majority Leader Mitch McConnell (R-Ky.) in his first floor speech Sept. 9, upon Congress' return to the Hill following the annual August recess.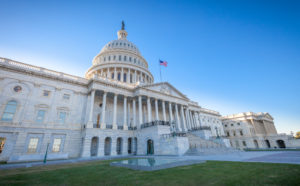 Under the leadership of Senate Appropriations Committee leaders Sens. Richard Shelby (R-Ala.) and Patrick Leahy (D-Vt.), "I am confident we can make significant progress on regular appropriations this month, and then pass an interim continuing resolution to prevent any funding lapse while that work continues," McConnell said.
"We have the parameters in place," he added, noting the passage of the Bipartisan Budget Act of 2019 in July, which set budget topline targets for FY '20 and FY '21 spending bills. "Now it is time for the rubber to meet the road and for the Senate to pass appropriation bills this month."
House Majority Leader Steny Hoyer also revealed plans to use a continuing resolution to temporarily fund the government while authorizers and appropriators hash out differences in House and Senate bills (Defense Daily, Sept. 6). However, the plan laid out in a Sept. 5 letter to caucus members would apparently apply the continuing resolution to all appropriations bills, rather than attempt to pass as many as possible and use the CR to fund whatever is not passed before Sept. 30.