The Army is closing out a research initiative studying the use of "robot teammates" for soldiers with a capstone experiment in October to test a legged robot capable of performing autonomous navigation.
The Robotics Collaborative Technology Alliance (RCTA) final demonstration will look to prove out prototype robots' ability to detect objects and differentiate terrain types in new environments with no prior knowledge of its surroundings.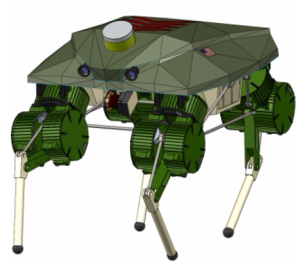 RCTA has previously developed the Legged Locomotion and Movement Adaptation (LLAMA) robotic research platform, which officials described as a "dynamic quadruped vehicle that is all-electric, human scale, quiet, autonomous, moves at roughly soldier walking speed and can carry a meaningful payload in addition to its sensors, computers and battery."
A first generation of LLAMA has reached a top speed of 0.8 meters per second and was capable of carrying a 5-kilogram payload.
At the October capstone event, researchers are expected to demonstrate a second generation LLAMA capable of achieving 1.0 meters per second and the ability to carry a 10-kilogram payload. 
The culminating RCTA event follows a June experiment at Camp Lejeune in North Carolina where the group tested "robot teammates" in a scenario where the platforms had to traverse through a village environment and navigate small buildings, gravel and dirt roads autonomously.
"Much of the commercial research in autonomous navigation and maneuver is focused on highly structured environments, e.g. urban cities with street signs and lane markings," Maggie Wigness, an Army Research Laboratory computer scientist, said in a statement. "It is extremely difficult to use these same approaches that rely on structural cues, in an environment that provides little to none of this context. Since our goal is to advance technology that supports our warfighters, it is essential that the RCTA focused the research effort on unstructured environments because this is where our warfighters operate."
Officials said the group will take lessons learned from the June experiment to apply to the October capstone event. 
RCTA has been running for around 10 years and currently includes the Army Combat Capabilities Development Command's Army Research Laboratory, General Dynamics [GD], Carnegie Mellon University, Massachusetts Institute of Technology, Florida State University, University of Central Florida, University of Pennsylvania, QinetiQ North America and the Caltech/Jet Propulsion Lab.