The State Department has approved a potential $401.3 million deal with the U.K. for C-17 aircraft logistics support, as well as the sale of 34 Patriot Advanced Capability‑3 (PAC-3) Missile Segment Enhancement (MSE) missiles to the Netherlands for $241 million.
The Defense Security Cooperation Agency (DSCA) notified Congress of both foreign military sales on Thursday.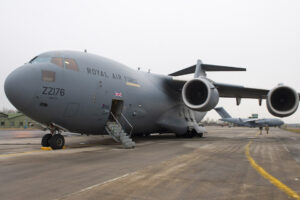 The C-17 support deal with the U.K. includes aircraft component spare and repair parts and software support.
"This proposed sale will improve the United Kingdom's capability to meet current and future threats by ensuring the operational readiness of the Royal Air Force. Its C-17 aircraft fleet provides strategic airlift capabilities that directly support U.S. and coalition operations around the world," DSCA officials wrote in a statement.
Along with the 34 PAC-3 MSE missiles, the Netherlands will also receive missile round trainers and skid kits.
"The Netherlands will use the enhanced capability to strengthen its homeland defense and deter regional threats, and provide direct support to coalition and security cooperation efforts," DSCA officials wrote.