Army officials on Wednesday lauded the results of the service's first Project Convergence demonstration at Yuma Proving Ground in Arizona, which brought together future capabilities, artificial intelligence-enabled systems and a new "computer brain" to prove out capacity for passing targeting data in a matter of seconds.
Army Secretary Ryan McCarthy said the six-week effort exceeded his expectations for showcasing the potential of how the service's future weapon systems could form a new "sensor-to-shooter" network required for multi-domain operations against peer competitors.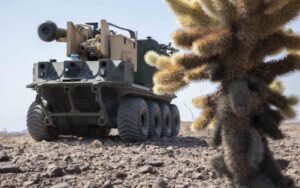 "If you think about having a discussion with Gen. [Mike] Murray, [head of Army Futures Command] about this concept just eight months ago, to be able to bring these elements to bear and put it into the form of a real experiment, where assets flew, we called for fire missions and delivered ordnance on target, is truly remarkable," McCarthy told reporters. "We did see a genuine improvement in speed. And speed will be the key factor in combat. It always has been, but it will be even more so for the conflicts we face in the future."
This year's event brought together six of the Army's modernization focused-cross functional teams (CFT) to the desert, representing assured position, navigation and timing, future vertical lift, the tactical network, next-generation combat vehicle (NGCV), soldier lethality and the synthetic training environment.
Next year's Project Convergence will add the Air and Missile Defense CFT as well as joint partners. The 2022 demonstration will be the first with allied partners. 
"We've matured technologies in six weeks that would've taken us two to three years to mature in a lab," Murray said. "This may not only be the most important thing Army Futures Command is working on, it may be the most important thing the Army is doing today."
Brig. Gen. Ross Coffman, director of the NGCV CFT and the lead for Project Convergence, told reporters the event included linking up modernization platforms and some surrogate systems, often passing data with space-based sensors, and a new "computer brain" called Firestorm to rapidly send data from machine to machine.
"This is happening faster than any human can execute. It is absolutely an amazing technology…that will fundamentally change the way we fight in the future," Coffman said.
Coffman added that Firestorm is an Army-developed system that takes target data on enemy assets and quickly pairs it with the best shooter available.
"What is Firestorm? Simply put, it's a computer brain that recommends the best shooter, updates the common operating picture with the current enemy situation and friendly situation and it missions the effectors that we want to eradicate the enemy on the battlefield," Coffman said.
Project Convergence also included participation from F-35s provided by the Marine Corps, which Coffman called a "huge milestone."
"We were able to pass ground targets to the F-35 so that the F-35 could affect those targets. And we were able to pass targeting information from the F-35 to ground units so we could deliver effective fires in support of their efforts," Coffman said. 
Coffman noted the demonstration also included using ground robots paired with small UAVs to digitally map areas and transmit that information over the network, as well as using AI in new aided target recognition tools.
"We've proved that our aided target recognition works. We need it to work on the move and we need to continue to collect data to train these algorithms so that they're not brittle," Coffman said.