Science Applications International Corp. [SAIC] on Wednesday announced new deals from the Army totaling around $4.4 billion to continue work supporting the service's Combat Capabilities Development Command, Aviation & Missile Center (DEVCOM AvMC).
The single-award deals include a potential eight-year, $3.6 billion contract for hardware-in-the-loop (HWIL) and modeling and simulation development and a five-year $800 million contract for engineering and professional support services, with both focused on DEVCOM AvMC's Software, Simulation, Systems Engineering and Integration (S3I) Directorate.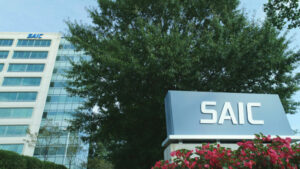 An SAIC spokesperson told Defense Daily the larger contract was officially awarded on March 9 and the latter on February 17, and will keep the company as an incumbent on areas of work it has supported since 1992.
"SAIC's proven past performance, qualifications, and our total solution, including our own research and development offerings, immersive technology, digital modernization, and our renowned mission engineering and systems integration solutions, were instrumental in winning this work," Bob Genter, president of SAIC's Defense and Civilian sector, said in a statement. "We are honored to have been selected and look forward to our continued support to the S3I Directorate and the Army AvMC."
The $3.6 billion deal covers full-life cycle support for AvMC's HWIL techniques for "systems, subsystems, components and software versions and hardware configurations that meet a measurable and testable set of requirements," according to the company.
"The Army DEVCOM AvMC, S3I Directorate develops and delivers responsive aviation, missile and calibration materiel readiness in order to optimize joint warfighter capabilities at the point of need," the company wrote in a statement. "With hardware-in-the-loop and modeling & simulation, SAIC engineers are able to cost-effectively test aircraft components such as electronic control units and line-replaceable units, running these components through complex scenarios."
The new $800 million contract expands SAIC's engineering support work to AvMC and will include the delivery of tools for "live, virtual and constructive modeling and simulation, data science, system-of-systems modeling and simulation architecture, system engineering, model-based systems engineering, battlespace effectiveness experimentation, missile defense and multi-domain operations system-of-systems, and combatant command modeling and simulation-based exercise, war-games and training," the company said.

"This new work expands upon SAIC's rich history of providing engineering and professional services in this area of the Army for several decades," Getter said. "We are honored to continue our work with the Army as the new primary provider for the S3I Modeling & Simulation Systems Engineering contract and we look forward to developing and bringing new and emerging technologies to the Army."
SAIC noted the new deals follow a pair of recent awards for other areas of support to DEVCOM AvMC's S31 Directorate, including $2.9 billion last June for software development and maintenance services and $830 million in February for aviation systems engineering services (Defense Daily, Feb. 9).