The Senate Armed Services Committee is aiming to transition responsibility for the Pentagon's electromagnetic spectrum operations from U.S. Strategic Command to the Chairman of the Joint Chiefs of Staff to improve oversight of new concept integration.
The full version of SASC's fiscal year 2021 defense authorization bill, released Tuesday evening, would designate the Vice Chairman of the Joint Chiefs of Staff as the department's  Electronic Warfare Senior Designated Official.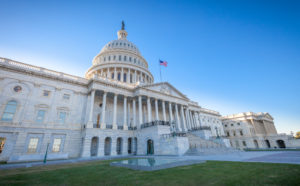 New responsibilities for the Joint Chief's office would include advocating for joint electronic warfare capabilities, providing contingency EW support to combatant commands and supporting joint training and planned for electromagnetic spectrum operations.
The Vice Chairman would be tasked with implementing the new responsibilities, including working with the DoD CIO to develop an Electromagnetic Spectrum Superiority Strategy, managing the Joint Electronic Warfare Center and and the Joint Electromagnetic Preparedness for Advanced Combat organizations and overseeing the military services' acquisition activities for electromagnetic spectrum capabilities. 
The Joint Chiefs will have an option to eventually re-delegate these responsibilities, based on a report to be conducted, to specific combatant commands. 
"An alternative arrangement would be that these authorities are performed either by a single combatant command or by the individual geographic and functional combatant commands responsible for executing electromagnetic spectrum operations with long-term supervision by the Chairman or Vice Chairman of the Joint Chiefs of Staff," the lawmakers wrote. 
Senior leadership from each of the services are also tasked with conducting an evaluation of their services' ability to perform electromagnetic spectrum operations missions, to include assessing current capabilities and future programs related to "the need for distributed or network-centric EW and signals intelligence capabilities and the need for automated and machine learning- or AI-assisted EW capabilities."
The Joint Chiefs Vice Chairman would be responsible for briefing Congress at least twice a year, through 2026, on the services' electromagnetic spectrum assessments.