The Senate Armed Services Committee is urging the Army to conduct a full assessment of its integrated air and missile defense (IAMD) portfolio to ensure current and future capabilities are able to meet growing threats from peer competitors.
The full version of SASC's fiscal year 2021 defense authorization bill, released Tuesday evening, calls for a classified report on the Army's IAMD enterprise by February 2021 which is to be reviewed by the Vice Chairman of the Joint Chiefs of Staff.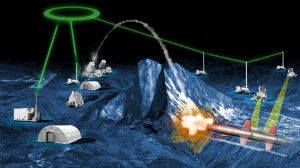 Lawmakers direct the Army Secretary to specifically assess how current and planned IAMD capabilities will "meet combatant commander requirements for major operations against great-power competitors," and fare against threats such as cruise missiles, ballistic missiles, unmanned aircraft systems, rockets and hypersonic weapons.
The report is expected to detail timelines for developing, procuring and fielding new capabilities, projected capability gaps as well as "opportunities for acceleration or need for incorporation of interim capabilities to address current and projected gaps."
The Army's prime focus for IAMD is the future IBCS command platform, being developed by Northrop Grumman [NOC], which is expected to be a next-generation missile defense control network that integrates the service's full range of "sensor to shooter" capabilities.
An initial IBCS capability is expected to be fielded in 2022.
SASC's markup also calls on the Army to detail how IBCS will integrate with the planned Joint All Domain Command and Control (JADC2) Architecture. 
Lawmakers are also asking the Army to study the potential benefits of establishing IAMD and Counter-UAS centers of excellence "to help focus Army and joint force efforts to achieve a functional IAMD capability and capacity to meet requirements of the combatant commands."
The Army Secretary would be expected to brief Congress on the IAMD assessment by mid-December before submitting the final report in February 2021.
The Vice Chairman of the Joint Chiefs of Staff would then review the report before presenting his findings to Congress by April 2021.