Special Operations Command on Tuesday detailed its modernization priorities for command, control, communications and computers (C4) tools, to include integrating artificial intelligence and cloud computing for its enterprise networks and upgrading its tactical communications equipment.
"The C4 team's emphasis is on being able to provide adaptive, flexible, scalable communications whether conducting or supporting command and control or influence operations," Deborah Woods, program executive officer for C4, told attendees during an online National Defense Industrial Association event. "The technologies to enable these types of requirements, some of the key ones are edge computing coupled with smarter algorithms and data assets. The ultimate goal is to continue to accelerate digital modernization and optimization within and across the SOF establishment."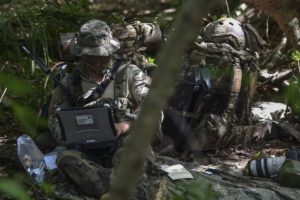 Woods said SOCOM's enterprise network program office will look to reassess its capability portfolio every 18 months to ensure it's able to keep up with industry's rapid pace of technology development.
"Part of the challenge is when we implement these new technologies, and as the C4 technology and industry continues to blur and converge in capabilities, we're then having to relook or reassess the second and third-order effects across the SOF information enterprise," Woods said. "The bottom line is we expect as the technology continues to progress, we will continue to reassess every 18 months and see what is really out there depending on what we acquire and what the chief information officer has implemented on the SOF information enterprise."
SOCOM is specifically interested in exploring neural network technologies, such as AI and machine learning, to enable advanced data analytic capabilities as well as growing cloud services to support its newly established hybrid cloud environment, according to Woods.
"We're also interested in any kind of self-healing or auto-correction or rerouting of traffic-type technologies that we could implement on the enterprise," Woods said. "We've implemented a hybrid cloud environment and intend to exploit commercial as well as on-premise clouds depending on the mission need or the pricing model. The bottom line is we want to be able to support dynamic, on-demand growth across the SOF information environment."
Woods said SOCOM's tactical communications program office is looking for new technologies to provide upgrades for its high frequency radios, tactical data link radios, ISR full-motion video receivers and its tactical local area network system.
"The program management office is also interested in wireless for tactical operators and a synchronized personal area network. Any way we can reduce cable, reduce weight as well as, potentially depending on the implementation, reduce complexity and roll-out," Woods said.
SOCOM is specifically interested in tools to reduce signature and provide jam-resistant capabilities, as well as mission modules for new software-defined radios that are currently being fielded.