A Government Accountability Office (GAO) report released May 11 finds while the newer 2015 onward way the Navy contracts for ship repair has helped lower costs it still runs over schedule.
In 2015, the Navy moved from Multi-Ship, Multi-Option (MSMO) to a Multiple Award Contract-Multi-Order (MAC-MO) approach to contract out work for ship maintenance to try to get more work done on time at a lower cost. GAO found that since this change the service has increased competition opportunities, gained flexibility to ensure quality of work, and limited cost growth. However, schedule delays remain.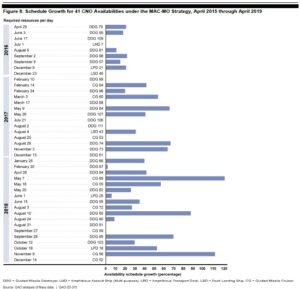 GAO underscored the continued late completion over schedule stems in part to the extra time it takes to coordinate funding for additional repairs that may have been expected but could not be quantified when the contract started.
The GAO evaluated delivery orders for all of the MAC-MO availabilities at Norfolk, Va., Mayport, Fla., and San Diego from the strategy start of April 2015 through March 2019.
The change to MAC-MO establishes fixed contractual prices and completion time frames for an upcoming availability rather than payment of in current contractor costs; uses a third-party planning contractor under a cost-reimbursement contract to define contract specifications instead of relying on planners working for repair contractors; and awards indefinite delivery contracts to multiple contractors who then compete for future availabilities rather than all availabilities in a particular class of ships going to one contractor.
The report said the Navy "has achieved some, but not all, of the goals it set under the MAC-MO strategy," and the service "desired improved availability cost and schedule outcomes under the MAC-MO strategy."
However, it said results in both areas are mixed.
"Through April 2019, the Navy had completed 41 CNO availabilities under its MAC-MO strategy with, on average, 5 percent cost growth and 30 percent schedule growth. Unplanned work, which can often be unavoidable in ship repair, has detracted from both cost and schedule performance," it continued.
The report noted that 21, more than half, of the availabilities were completed at a lower cost than the Navy originally estimated. The other remaining availabilities had cost growth of one to 78 percent and drove the overall average increase.
The 30 percent schedule growth worked out to an average of 64 days. Twelve of the 41 availabilities were finished on time, none finished ahead of schedule, and two more than doubled in total length. One even finished with 123 percent schedule growth.
Navy officials told the GAO one possible source of delays is unplanned work, which consists of growth and new work. Growth work is additional work identified and authorized after contract award and related to an item in the original contract. New work is additional work not related to an item in the original contract. The report underscored GAO previously found growth work contributed to cost and schedule increases.
"Navy officials stated they expect some growth work in availabilities, as officials stated that certain tasks are difficult to fully scope within the original contract," the report said.
Likewise, new work may be necessary when an item that needs repair breaks or maintenance teams discover an issue after the Navy awards the contract.
GAO underscored in a previous report it explained the importance of contractors and staff negotiating contract changes and agreeing on costs in a timely matter to minimize schedule impact.
"In our current review, Navy officials stated that negotiating change orders for unplanned work under MAC-MO is more difficult and time consuming than under the prior MSMO strategy because the Navy can no longer direct the contractor to continue to work without agreeing on the cost."
The report said the Navy recognizes the schedule issues with the current MAC-MO implementation and is working to mitigate them, but statutory requirements and their implementation "have hindered the Navy's ability to further mitigate schedule delays. Specifically, the Navy must obtain approval from the Under Secretary of Defense (Comptroller) before funding growth work that occurs in subsequent fiscal years and exceeds $4 million—an amount established under a 1990 law."
GAO said this approval process can take from 26 to 189 days, based on Defense Department data.
Congress established a pilot program last December to potentially allow the Navy to avoid the process using Other Procurement Navy (OPN) funds.
The report argued "every pilot program should be thought out before it starts, including consideration of what data need to be collected and how the data will be analyzed. Otherwise, the pilot could be poorly run or could miss opportunities to gain information and lessons learned."
GAO recommended the Secretary of the Navy establish an analysis plan for the evaluation of the pilot program availabilities based on leading practices for pilot programs.
"This analysis plan should identify opportunities to evaluate schedule outcomes of pilot program availabilities as compared to non-pilot program availabilities and document a process for evaluating lessons learned from the pilot program," it continued.
In an appendix to the report, the Navy responded that it concurs and will establish the analysis plan.