A recent Government Accountability Office (GAO) report said the Navy needs to better plan its work to create and transition unmanned systems in the future fleet, ranging from better estimating costs to planning out how to move from prototypes to active systems.
The report noted that while the Navy has established strategic objectives for various unmanned vessel efforts, "it has not established a management approach that orients its individual uncrewed maritime efforts toward achieving these objectives. As such, the Navy is not measuring its progress, such as building the robust information technology needed to operate the vehicles," the report published April 7 said.
"While the Navy's shipbuilding plan outlines spending more than $4 billion on uncrewed systems over the next 5 years, its plan does not account for the full costs to develop and operate these systems," it added.
The GAO report focused its review on four systems falling under Naval Sea Systems Command's Program Executive Office for Unmanned and Small Combatants: the Large Unmanned Surface Vessel (LUSV), the Medium Unmanned Surface Vessel (MUSV), the Extra large Unmanned Undersea Vehicle (XLUUV) and the Large Displacement Unmanned Undersea Vehicle (LDUUV). It performed this audit from October 2020 to April 2022.
The report argued that the Navy's strategic planning efforts examined the need for investing in uncrewed systems, "but the Navy is only beginning to assess their effects on existing shipbuilding plans. While the Navy has outlined a plan to spend $4.3 billion on uncrewed maritime systems in its shipbuilding plan, we found that this understates the costs associated with these systems because it does not account for all costs—specifically operations and sustainment, and the digital infrastructure necessary to enable them."
GAO analyzed the last 30-Year Shipbuilding Plan that included full details of long term plans, from December 2020. That report outlined a goal of acquiring 143 unmanned vessels by 2045 and said the Navy planned to spend $4.3 billion over the following five years to procure 21 vehicles. The Congressional Budget Office analyzed that this meant the plan expected the Navy to spend about $1.2 billion annually for 30 years in FY '2021 dollars, or four percent of the planned shipbuilding budget.
GAO said the overall 2020 shipbuilding plan would require up to 50 percent more resources for the shipbuilding account than what the Navy has received on average over the past five years, including on the unmanned accounts.
"Therefore, funding uncrewed maritime systems could come under pressure from the Navy's competing shipbuilding demands," GAO said.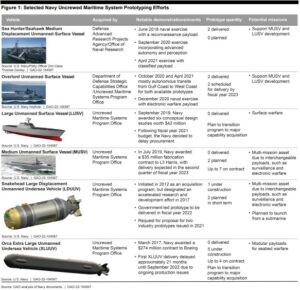 GAO focused on the 2020 plan because the Biden administration's first 30-Year Shipbuilding Plan, released in June 2021, did not include a full 30-year forecast. The office said it was still consistent with the previous plan focusing on the importance of unmanned systems for the future fleet so it used the 2020 plan figures for this report as the best indication of the Navy's long-term level of investment in these systems.
"Based on our analysis of the Navy's December 2020 shipbuilding plan, we found that the Navy is underestimating the resources needed to acquire its uncrewed maritime systems. Specifically, the estimate does not encompass costs for: (1) operations and sustainment (O&S) or (2) the digital infrastructure needed to enable and support these systems."
The Navy's 2020 long term shipbuilding plan said uncrewed systems do not have enough maturity and fidelity to allow them to model operations and sustainment costs.
However, GAO said that "given that operations and sustainment costs are such a large portion of a shipbuilding program's total cost the Navy cannot fully assess the affordability of uncrewed maritime systems without an understanding of operations and sustainment costs, even if an estimate of these costs needs to be refined over time as more knowledge is gained through prototyping."
The report noted having a ship without a crew may allow for some O&S cost savings, but the vessels will still require some crew operations on shore or on board a crewed vessel. The Navy has not determined how many sailors may be required to operate unmanned naval systems in this kind of role.
However, GAO warned that previous attempts by the Navy to reduce crew sizes via increased automation "resulted in large increases to maintenance costs when the automated systems failed to work as intended, ultimately leading the Navy to assigning additional crew to its ships. Given this trend, the Navy cannot fully assess the affordability of uncrewed maritime systems without understanding the extent to which the replacement of a crew on board with automated systems affects operations and sustainment costs."
The report also noted the Navy's cost estimates also do not include the price tag of the digital infrastructure necessary to enable unmanned systems to function without a crew on board.
"According to the Navy's initial prototyping plans, developing the digital infrastructure, including the Rapid Autonomy Integration Lab needed to enable uncrewed maritime systems, will require a significantly larger software development effort than is typical for shipbuilding programs."
GAO said a senior official in the Navy's Research, Development, and Acquisition office told them that digital infrastructure is still under development and "the full extent of costs remain unknown, although they expect costs just for the digital infrastructure to run into the billions of dollars."
The Navy has not included the estimated costs of developing this digital infrastructure in the 2020 or 2021 shipbuilding plans even when it included $292 million for general Navy digital infrastructure.
GAO reported Navy officials told them "developing this software capability has thus far not been as high of a priority as fielding vehicle prototypes," but they claimed the full FY 2023 budget request will include more funding for digital infrastructure.
Navy officials also reportedly attributed incomplete cost estimates for unmanned systems "to the unique nature of these efforts, as well as being prototyping efforts that are not typically included in shipbuilding plans. For example, Navy officials noted that the Navy does not produce program life-cycle cost estimates for prototyping efforts."
However, GAO said the Navy often includes early estimates for ships that do not have program life-cycle costs yet, like the Light Amphibious Warship.
GAO said while there are uncertainties in uncrewed naval systems, "our cost estimating leading practices account for uncertainty in program costs. These practices state that, while programs tend to start with rough order of magnitude estimates, these estimates should be refined over time as more is understood about a program and as funding levels are expected to increase."
"Despite initial uncertainty, it is important to document planned costs as early as possible because initial cost estimates help to inform trade-off decisions among cost, schedule, and requirements, which increase a program's probability of success," GAO continued.
The report warned while the Navy pointed to affordability as part of the impetus to use unmanned systems in the Unmanned Campaign Framework, without at least a rough cost estimate that covers all parts of the investment, "it cannot be certain that uncrewed maritime systems are the affordable solution for providing the capability that the Navy desires."
"A cost estimate, beginning with rough order costs that is refined over time, forms the basis for establishing and defending informed investment decisions and is integral to determining and communicating a realistic view of likely cost and schedule outcomes," it continued.
GAO said that by underscoring unmanned affordability without the analysis that covers all costs, the Navy may be communicating unrealistic cost estimates and expectations for unmanned systems.
"If uncrewed maritime systems turn out to be more expensive than anticipated, the Navy may not be able to buy as many ships—whether crewed or uncrewed—as currently planned, which could jeopardize its future force plans."
GAO also argued the Navy is missing opportunities to better manage the unmanned vessels.
Specifically, it said the Navy is not managing the individual unmanned system efforts and capabilities as one portfolio, missing opportunities to more efficiently achieve strategic objectives and maximize investments.
"The Navy has not initiated key practices for its group of related investments on uncrewed maritime systems and capabilities: 1. clearly defining a portfolio that is linked to strategic objectives, 2. establishing clear metrics for judging the portfolio, 3. defining and appropriately empowering governance roles for the portfolio, and 4. identifying stakeholders and a stakeholder engagement plan for the portfolio. By not establishing a portfolio and initiating these key steps, the Navy is reducing the likelihood that it will achieve its strategic objectives for uncrewed maritime systems."
GAO said Navy officials told them rather than manage the unmanned systems as one portfolio the work is divided between surface, undersea and warfare integration offices within the Office of the Chief of Naval Operations "because they prefer having experts make trade-off decisions within their respective surface and submarine domains."
The report warned that without a portfolio the Navy does not have a mechanism where it can collectively work together on shared aspects of unmanned systems to optimize achieving the objectives.
GAO said if the Navy maintains its current approach to managing these unmanned vessels via divided portfolios not meant to share resources "it will likely continue to make investment decisions that minimize the importance of the digital infrastructure necessary to operate these vehicles. This divided approach is also unlikely to help the Navy achieve the collective objectives it set for its uncrewed maritime system efforts."
The report said if the Navy does not implement practices like evaluation criteria to measure the readiness of prototypes to enter into acquisition, "it may not get the most of the billions of dollars it is investing in these prototypes and would also likely begin future uncrewed acquisitions with more risk than planned."
GAO made seven recommendations for the Secretary of the Navy.
The first recommendation is the secretary provide Congress with a cost estimate including the full scope of known costs to develop and operate unmanned maritime systems that includes all O&S costs and digital infrastructure as well as develop an approach to refine that estimate over time as part of the next shipbuilding plan.
Other recommendations include having the Navy Secretary establish a unified unmanned maritime systems portfolio; provide details about how the Navy intends to achieve unmanned maritime system strategic objectives including measures, metrics and a planned process to assess progress toward objectives; develop evaluation criteria for assessing each unmanned prototype effort's readiness to transition to an acquisition program; develop a master planning schedule including each system that establishes when the Navy plans to purchase and prototype each vehicle and when it plans to achieve desired capabilities; revise the prototyping plan for each system to include how to plan to use prototyping efforts to mature technologies to reach top level requirements; and revise prototyping plans for each system to incorporate how it plans to use information from prototyping to develop certifications to apply to unmanned maritime systems before investment decisions.
The Navy overall concurred with the recommendations, but GAO said some actions it promised in response to three recommendations would not fully address issues in the report.