The Navy on Wednesday said it intends to issue a "build to print" solicitation to produce a Mine Countermeasures Unmanned Surface Vehicle (MCM USV) by fiscal year 2020.
The post on FedBizOpps said the MCM USV will be a ship- or shore-launched open architecture vehicle capable of autonomous safe navigation and mission execution.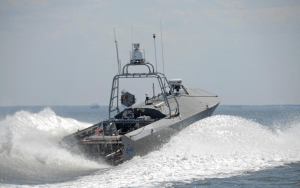 The Navy said the government expects to release a draft request for proposals (RFP) in 2019, with the formal solicitation release expected sometime in FY 2020. The post also said offerors will be able to access draft RFP documents later this month.
The notice underscored Naval Sea Systems Command (NAVSEA) intends to conduct industry engagement sessions with potential offerors on requirements for the vessel after the draft RFP material is posted.
"NAVSEA intends to allow potential offerors time to access the data included in the draft RFP announcement, and develop questions/feedback," the notice said.
Last year, NAVSEA won the Pentagon's approval to develop a new common MCM USV. At the time the service said it was planning to make a common modular vehicle that can accommodate at least the counter-mine payloads of mine hunting, mine sweeping, and mine neutralization (Defense Daily, Oct. 17, 2018).
At the time, Capt. Pete Small, program manager of Mine Warfare Systems (PMS 406) in the Program Executive Office Unmanned and Small Combatants (USC), said the Navy was hoping to start the common MCM USV by fiscal year 2020.