The Navy on Wednesday said it intends to hold two virtual industry days later this month for the Mine Countermeasures Unmanned Surface Vehicle (MCM USV).
A Navy update to its presolicitation notice for the program said Program Executive Office Unmanned and Small Combatants' (PEO USC) Unmanned Maritime Systems Program Office (PMS 406) will hold the industry days on May 27-28.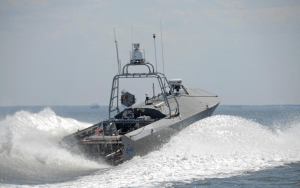 The notice explained the industry days aim to "improve Industry's understanding of how the MCM USV Program fits into the Navy's plans to expand the use of Unmanned Vehicles. The objective of Industry Day is to provide Government information and solicit industry feedback to accelerate the procurement and production of MCM USVs."
The industry days will be held via teleconference and teleconference numbers will be provided to pre-registered and confirmed companies only. The May 27 industry day will be held from 9am to 12pm while the May 28 time will last from 9am to 5pm. The deadline for registration is May 21.
The Navy last October first revealed it intends to issue a "build to print" solicitation for MCMC USV, which is expected to be an open architecture vehicle capable of autonomous safe navigation and mission execution (Defense Daily, Oct. 16, 2019).
The Navy intends to release a formal solicitation in fiscal year 2020.
In 2018, the Navy got the Pentagon's approval to develop a new common MCM USV. At that time, the service said it was planning a common modular vehicle that could accommodate the counter-mine payloads of mine hunting, mine sweeping and mine neutralization (Defense Daily, Oct. 17, 2018).