This week Acting Secretary of the Navy Thomas Modly said the future aircraft carrier force is unclear, noting every option is on the table.
"These are really, really expensive assets. The new one, the Ford-class carrier, is going to be an amazing piece of equipment when it's done and operating, finally. It's $13 billion apiece, and that's not including the cost of the airwing and everything else. And it's a big target and…it's more vulnerable," Modly said while speaking at a Center for Strategic and Budgetary Assessments event on Jan. 29.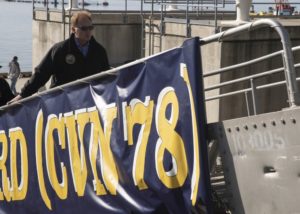 Modly expressed skepticism if large Ford-class carriers are best for the long-term future carrier force. He acknowledged the Navy is developing "all kinds of things to make it less vulnerable, but it still is a big target and it doesn't give you that distribution that I think we want."
Modly said previous Navy plans to reach the congressionally-mandated force of 12 carriers reaches the number only in 2065 and he is unsure how relevant the number 12 is if it takes decades to reach it anyway.
"You know, we'll all be dead, so you might as well put 50 down there. You should think about what we can actually do, what we can achieve, and I think that number's going to be less. And I don't know what that number is but those are the types of things we have to iterate over and over and over again to make sure we get it right."
"I think everything is on the table…it has to be," Modly said.
While he confirmed there is no new CVN(X) carrier program, the service will start looking at what CVN-82 will look like.
"Do we have to think about when we might layer that into the acquisition plan and the shipbuilding plan? Yes, we have to do all that. Does it have to be informed by how we're thinking about this new surface fleet? Yes. The changing threat environment, all those things have to be considered. And that's part of my job is to help cue up those types of questions because it's not just a decision we make inside the Pentagon," Modly said.
Modly noted the latest named carrier, the future USS Dorris Miller (CVN-81), will not enter the fleet until 2032 or later. "So we have some time. Thankfully, we have some time to think about that."
For now, Modly said there is no decision the Navy is making in Program Objective Memorandum (POM) for FY 2021 or 2022 that will impact carrier numbers. "These are decisions that are in the 10-15-year timeframe, but we have to think seriously about it."
While Modly was unwilling to comment on specific provisions of the upcoming FY 2021 budget submission until it is public next month, he noted, "Congress and the president made it pretty clear the RCOH (Refueling and Complex Overhaul) from [USS] Truman, taking that out is off the table, so take that for what it's worth."
However, even if the Truman RCOH is not under consideration, "that doesn't mean that we can't look at long down-range what's the right carrier mix, what the next carrier might look like and I think we need to open up that discussion, obviously."
Modly said the future carrier mix discussion has to go beyond the walls of the Pentagon to include Congress and the shipbuilding industry.
"We want to have a strong shipbuilding industry; we want to continue to produce those carriers that are important. But we have to think about what the future is. These carriers are with us for 50 years and they're very, very expensive assets."