The Marine Corps is soliciting industry input on new ground based air defense systems to be integrated on its Joint Light Tactical Vehicles (JLTV) and capable of taking down drones, fixed and rotary-wing threats. 
Request for Information notices released in late March detailed plans to find counter-UAS and direct fire defeat systems for JLTVs under the Marine Air Defense Integrated System (MADIS), with a goal to begin low-rate initial production by FY '22.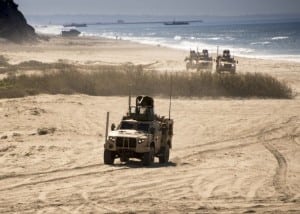 "This system will provide new and improved capability to mitigate the risk of attacks from unmanned aerial systems and fixed-wing/rotary-wing aircraft while maintaining pace with maneuver forces. Specifically, Increment 1 provides Marine Air-Ground Task Force commanders short range ability to detect, track, identify, and defeat aerial threats," the Marine Corps wrote in a March 27 notice.
MADIS Increment 1 will look to find a vendor capable of integrating existing direct fire defeat systems and command and control software on the heavy guns carrier variant of the Marines' JLTVs.
The direct fire defeat system must be able to fire 30 x 113mm caliber rounds and 30 x 113mm self-destruct and proximity rounds and capable of integration on currently fielded remote weapon stations.
The Marine Corps is aiming to deliver 26 LRIP systems in the third quarter of FY '21 and 192 systems by the third quarter of FY '22. 
Officials released a separate RFI for a MADIS FW/RW air defeat capability consisting of a turret-mounted launcher and payload for JLTVs, able to reach similar ranges to the FIM-92 Stinger system.
The FW/RW capability must be a technology readiness level-9 and meet requirements to support delivery of two Engineering Development Models in the third quarter of FY '21 and 13 LRIP systems in the third quarter of FY '22.