After notching its first major procurement contract since reentering the market, winning the Army's Infantry Squad Vehicle (ISV) competition, GM Defense [GM] is looking to further leverage its commercial sector experience for future fuel and vehicle electrification opportunities across the services.
David Albritton, the company's president, told Defense Daily on Monday GM's commercial investments in developing alternative power sources parallel with programs ranging from Army's next-gen combat vehicle fuel objectives, hydrogen fuel cells for Navy unmanned vessels to new batteries for generators.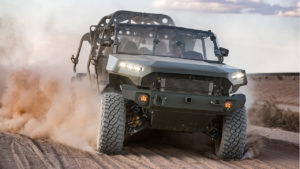 "I would characterize [ISV] as a cornerstone program. This is fantastic. Since our inception in October 2017 we've had a number of smaller contracts mostly in the R&D realm, working with potential partners in this space. But to be on a program of record, a procurement program, our first one out of the gate and one that's so important for the Army, is tremendously important for us," Albritton said. "It's a tremendous boost to our confidence and ability to come back into the marketplace and be a strong player. Our number goal is to keep our Army customer happy with the choice that they made."
GM Defense was awarded the $214.3 million production contract for ISV last Friday, beating out Oshkosh Defense [OSK] and SAIC [SAIC] for the program to find a new lightweight air-droppable platform (Defense Daily, June 26).
Albritton said initial ISV deliveries are likely to start in September, with the contract expected to cover procurement of nearly 650 vehicles and the total acquisition objective at 2,065 vehicles.
"We are also staying very much in tune with where the services are going with alternative power needs. Because we believe that based on the expertise we have with the commercial market, we definitely have some offerings that could be compelling," Albritton said.
For ground systems, Albritton sees future opportunities for both hybrid diesel propulsion systems and full battery electric hydrogen fuel cell technologies.
"Obviously, the Army has made it public that they're looking for alternative power solutions. We are very tightly in conversations with the Army on what their requirements are going to be and their needs going forward. We have provided some examples on what that might be as we continue to improve our battery chemistry and architectures for next generation-type capabilities," Albritton said.
"If you think about a lithium ion battery or a hydrogen fuel cell, both representing electric forms of propulsion, we're trying to think about the future of mobility and applying those capabilities into different types of platforms," Albritton said.
GM Defense is also assessing interest in new battery technologies that would allow generators at forward operating bases or those used on flight lines to be quieter and produce fewer fumes.
"If you think about generators, there are 88,000 generators that DoD uses for various purposes. They're not by design a stealthy platform. They're very loud and you've got to worry about your supply chain, from the rear to the forward operating bases and beyond. We're contemplating how you could potentially replace some of those generators with a battery electric solution," Albritton said.