NORFOLK, Va. — Oshkosh Defense's [OSK] new hybrid-electric version of its Joint Light Tactical Vehicle (JLTV), the eJLTV, impressed Army officials during a recent engagement, the company told
Defense Daily, as the service looks to industry to inform vehicle electrification opportunities.
George Mansfield, Oshkosh Defense's vice president and general manager of joint programs, said officials from the JLTV Joint Program Office and the Army's Rapid Capabilities and Critical Technologies Office checked out the eJLTV, adding he believes the demonstrator platform "lines up perfectly" with how the Army is beginning to think about getting after hybrid-electric capabilities.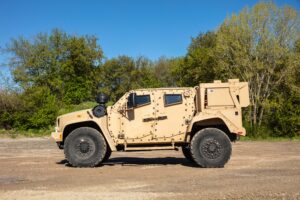 "I think they were very impressed. I think it really hit the spot," Mansfield said in an interview with Defense Daily on Wednesday at NDIA's Tactical Wheeled Vehicles Conference in Norfolk, Va. "We're going to refine [the eJLTV] a little bit more. Talking to the users out there and what they really want for external power, what they really want for range in the silent mode. So we're doing that work now and then probably this summer will take it around."
Andrew DiMarco, the Army's acting program executive officer for combat support and combat service support, noted the engagement with Oshkosh Defense is an example of how the Army wants to bolster discussions with industry on the latest advancements in the vehicle electrification space.
"When I looked at it, I said, "Wow, I hadn't thought of that.' I hadn't thought of that type of implementation for sort of the next step toward hybrid instantiation on an existing vehicle," DiMarco said Wednesday at the conference. "That's why it's important to dialogue with us because we may have sort of wargamed some stuff within the government in terms of what we think [electrification] looks like or feels like or what the design point should be, and we probably are missing some spectacular opportunities out there if you're not engaging with us."
Oshkosh Defense unveiled the eJLTV in January, noting the hybrid-electric version of the vehicle offers silent drive capabilities and operates with a battery that recharges while the platform is in diesel mode (Defense Daily, Jan. 25). 
"[eJLTV's] not that full electrification, total electrification, because we believe that out in the battlefield you don't have a charging station. This, we believe, is really the way the Department of Defense should go," Mansfield said. "[The Army] is really worried about how do you charge the vehicle. Do you have battery packs? How do you do it out in the field? I think our solution, the hybrid solution, is the way to solve that problem."
Mansfield reiterated that getting after a hybrid-electric solution is not a requirement of the Army's ongoing competition for the JLTV follow-on production deal, while adding it showcases a potential path in case there is interest in retrofitting vehicles with the technology.
"We used the same engine that's in the truck today. We didn't downsize the engine or anything. We got the exact same performance whether you're in the electric mode or if you're in the ICE mode, the internal combustion engine," Mansfield told Defense Daily. "[The Army] could eventually at some point ask for a different variant, which would be the eJLTV. We could do that since it's retrofittable to any of the JLTVs."
Gen. James McConville, the Army chief of staff, told lawmakers last June the service "is not there yet" on going after full electrification for its JLTV fleet but may look into "hybrid [solutions] that cuts fuel by 25 percent" (Defense Daily, June 22 2021)
DiMarco cited battlefield recharging as a critical challenge the Army has to assess before it can roll out hybrid-electric or fully-electric platforms, while adding it as an area where industry is making advancements. 
"There are some challenges with going fully electric on the modern battlefield," DiMarco said. "You all have answers. Send us your insights. Bring us the things that you're thinking can help us overcome that challenge."
Michael Cadieux, director of the Army Combat Capabilities Development Command's Ground Vehicle Systems Center, also spoke at the conference and noted the service's recently released climate strategy includes goals to get after hybrid-electric-powered capabilities by 2035 and fully-electric capabilities by 2050 with supporting tactical recharging infrastructure. 
"Especially when you look at 2035 to field something hybrid, the technology is kind of there now in many instances," Cadieux said. "The partners that we have in industry, you're already almost demonstrating or have prototype vehicles in some sort of hybrid configuration. So in my mind, a milestone like 2035 seems very relevant and very possible given where we're at today and what we're seeing from industry."