The Army has "caught up with industry" as it pushes to build up its 3D printing capacity, the service's top logistics said Tuesday, with a plan to expand additive manufacturing capabilities to all of its plants, depots and arsenals.
Gen. Gus Perna, head of Army Materiel Command, told reporters the Army is now looking for a solution that would act as a digital thread to connect the service's 3D printing hub at Rock Island Arsenal in Illinois to advanced manufacturing tools at other facilities and eventually divisions at the tactical edge.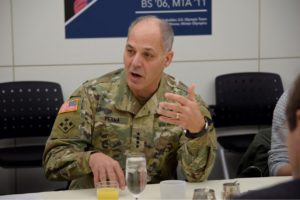 "I would tell you that three years, when I started this whole adventure, industry was way ahead of us. I was enamored by what industry was doing, and I thought we'd never catch up. I believe, my personal opinion, is that the United States Army, based on support from Army senior leaders, has caught up," Perna said,
Perna said he has a three-year timeline for expanding the Army's 3D printing ability, which arrives after the Army's new Center of Excellence for Advanced and Additive Manufacturing at Rock Island reached initial operational capability last May.
"We have put capability [at Rock Island]. I have spent a lot of money to put capability up there, so that it is my hub," Perna said. "Additive manufacturing, subtractive manufacturing, 3D printing are all there. That's my foundation. Now what we're doing is expanding that capability into the remaining 25 depots, arsenals and plants. But it's limited to connection. I want the foundation of the work to be in Rock Island and then I want selected work to be done in the depots, arsenals and plants to support the rebuild of our fleet."
In October, the Army approved a new advanced manufacturing policy to bolster the use of 3D printing and robotics to build materials for new capabilities and push for future contracts to include requirements encouraging contractors to use additive manufacturing practices (Defense Daily, Oct. 4).
Perna said the current missing piece for the Army's advanced manufacturing push is the ability "to create the digital thread to connect the home base to the depots, arsenals and plants and to the divisions" and streamline the process of pulling up a 3D model from any depot and printing the piece.
"We're manhandling the process now. I need the process to be elevated into the information age. We have the capability, but not the process," Perna said. "The speed of execution will be manifested by my ability to bring in this system that allows me to have all the drawings and then allows me to connect the user to the drawings, both to execute making the piece and also financially."
The Army is looking for help from academia on the "digital thread" challenge, with Perna noting that he recently sent a group of officials to a specific, unmanned university that he believes might have a potential solution.
"I'm sending contracting folks up there, acquisition folks up there. I'm sending program managers up there. I'm making them all go up there and I'm sliding pizzas under the door until they've got a solution," Perna said.
Perna also said he'll look to address concern from industry that an embrace of 3D printing would disrupt industrial base supply chains, affirming that the Army is focused on producing pieces as needed in response to real-time readiness challenges.
"Industry needs to know I'm not trying to take over their supply chain. I don't want their supply chain. I want to be able to influence and react to readiness drivers that are needed on the battlefield in a timely manner," Perna said. "Number two, I need to have government purpose rights to repair parts. The days of 'we made this truck for you, we own all the intellectual property,' that needs to go away. I just need the rights to produce capability for the equipment that we bought."